Campus & Community
SU hosts Saturday recreation program for Syracuse families
Syracuse University's Department of Recreation Services within the Division of Student Affairs continues its long-standing tradition of opening its facilities to Syracuse families on Saturday mornings through the Neighborhood Youth Recreation Program (NYRP). Dating back to the mid 1970s, the NYRP was designed as a free program to give local, community youth, ages 5 to 13, regardless of their economic situation, the opportunity to participate in safe, structured recreational activities.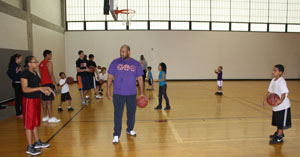 The 2012-13 NYRP includes free instruction for Syracuse children in gymnastics and basketball, and also offers a tutoring and writing program. Parents and children will also be able to enjoy together as a family classes in salsa dance, yoga and swimming.
"This program is designed for the Syracuse community to enjoy our facilities on campus, and for kids and their parents to participate together," says Ernie Rivera, assistant director of Recreation Services. "There are many kids looking for guidance and additional fitness activities, and this program can provide the direction and structure, while also being fun."
The classes will be held throughout the school year on Saturdays from 9-11:30 a.m. at Archbold Gymnasium on Syracuse University's campus. Participants will be rotated throughout the various classes, so they can experience each of the disciplines.
Parents/guardians can register their child for the fall session in the Archbold Gymnasium lobby during the hours of any of the program dates. A calendar with class times and dates will be handed out during the registration process.
Fall session dates:
Oct. 6
Oct. 13
Oct. 20
Oct. 27
Nov. 3
Nov. 10
Dec. 1
For more information on the NYRP, contact Ernie Rivera at 443-3288 or errivera@syr.edu.