Health & Society
Nutrition consultation program offers close-up look at diet, overall health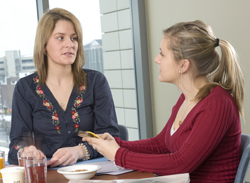 It's common to walk down the grocery aisle and see shoppers reading nutrition labels on everyday items. For many, these little labels can cause enormous headaches because they are often confusing and hard to understand.
But they don't have to be.
The Department of Public Health, Food Studies and Nutrition is playing an important role on campus and in the Syracuse community to bring clarity to things like nutrition labeling and portion sizes. Through the nutrition counseling program, it is helping people to improve their health through small reasonable changes.
Seniors and graduate students in the Falk College's nutrition science and dietetics program (supervised by registered dietitians) will provide accurate, thorough and confidential dietary consultation. The program is led by Tanya Horacek, associate professor of nutrition. The deadline to sign up to participate is Oct. 10. To register, and for questions specific to the program, contact Cindy Wiestling at llwiestl@syr.edu.
The first phase of the program includes completion of a medical and dietary survey. One-on-one appointments pair an individual with a nutrition consultant to formulate a reasonable and sustainable plan for improving dietary quality, which includes a detailed assessment of medical, dietary, weight, exercise and lifestyle factors. During this appointment, the nutrition consultant will provide detailed feedback regarding dietary quality and will help participants map out goals and a plan related to improved nutritional habits.
Consultation sessions are private and individualized, with flexible scheduling and locations. The series of four appointments (two in person and two via phone or e-mail) will address dietary issues, but is also lifestyle-oriented to ensure overall health. The cost for the program for SU and SUNY-ESF students is $25. SU/SUNY-ESF faculty, staff and their partners are $35. The fee for community members is $40. All participants are eligible for a $20 reimbursement of the program fee if they attend all consultation sessions and complete a brief survey about the program. Space is limited.
The confidential program is meant strictly for disease prevention/health promotion and not medical nutrition therapy. If a participant is determined to have risks beyond the scope of this program, referrals will be made for a more appropriate service and the participation fee will be refunded.