Health & Society
Linda Stone Fish appointed David B. Falk Endowed Professor of Marriage and Family Therapy
Linda Stone Fish was named the inaugural David B. Falk Endowed Professor of Marriage and Family Therapy at Syracuse University's Falk College. For more than two decades, Stone Fish has devoted herself to training master's and doctoral students in the Department of Marriage and Family Therapy at SU in various teaching and leadership roles. She is currently the director of graduate studies in marriage and family therapy. She previously served as MFT department chair and program director, as well as the coordinator of clinical services for the Goldberg Couple and Family Therapy Center. A licensed marriage and family therapist in New York State, she currently has a couple and family therapy private practice.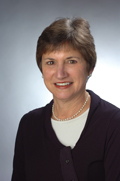 Stone Fish's extensive portfolio of national presentations spans numerous topics, including understanding and supporting the needs of LGBTQ youth and families, family systems, suicide prevention and trauma and therapy. Her book "Nurturing Queer Youth: Family Therapy Transformed" (Norton), is a ground-breaking treatise devoted to advocating for families as safe havens for all children. Under contract with Routledge, Stone Fish is co-authoring "Complexities of Trauma: Exploring the Collaborative Cycle of Change," which furthers her commitment to models of change in the healing of family systems affected by complex trauma. She has contributed research and theoretical articles to publications including Journal of Marital and Family Therapy, Contemporary Family Therapy, American Journal of Family Therapy and International Journal of Theory and Research. She has authored numerous chapters in books including "Research methods in family therapy" (Guilford), "Revisioning family therapy"(Guilford), and "Handbook of affirmative LGBT couple and family therapy" (Routledge).
She served as chair of the Commission on Accreditation of Marriage and Family Therapy and has served on numerous editorial advisory boards for the field. She is currently a member of the American Family Therapy Association and the American Association for Marriage and Family Therapy. Stone Fish earned a Ph.D. from Purdue University, an M.S.W. from the Jane Addams College of Social Work at the University of Illinois at Chicago Circle and a bachelor's degree in psychology from Northwestern University.