A winter's tale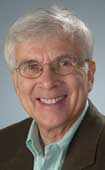 Central New Yorkers all have their winter war stories.
Distinguished Professor of Geography and lake-effect snow researcher Mark Monmonier can clearly remember the details of his own. The narrative includes a lost muffler in accumulating snows, getting stuck behind a bus unable to navigate a slippery incline and finally abandonment of his car in a parking lot to venture home on foot.
"That was my one significant lake effect story. Generally the forecast has served me well and I've been able to avoid situations where I really might get stranded," says Monmonier, a faculty member in the Maxwell School of Citizenship and Public Affairs.
Along with that story and other anecdotes of life in a lake-effect snow region, Monmonier details the meteorological science and cartographic history behind the phenomenon in his new book, "Lake Effect: Tales of Large Lakes, Arctic Winds, and Recurrent Snows" (Syracuse University Press). It combines research with the stories that many people can relate to—or might find fascinating if they are not from a region that typically experiences more than 100 inches of snow per year.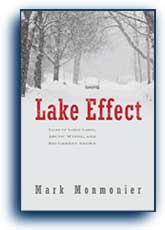 However deep those major debilitating snow memories may be ingrained in our consciousness, Monmonier says the real impact of our regional snowfall is less harrowing and more nuisance.
"The annual total snowfall—while it might include one or two significant lake-effect storms—tends to build up more gradually because we have these days where you get a little bit of snow or enough to bring out the town plow," Monmonier says, "but not enough to cause disruption."
Lake-effect snow is the result of narrow bands of clouds that form when cold, dry arctic air passes over large, warm inland bodies of water—like our region's Lake Ontario. Intense snowfalls could last a couple minutes to several days.
With a research focus on cartography, Monmonier pursued the book after first exploring the idea of writing a paper about the earliest maps showing lake-effect snow. Surprisingly, there had been no national maps of snowfall until about 1894, before which they included snow only as total precipitation with rain.
The recipe for lake-effect snow was established in the 1940s, as Monmonier found in an American Meteorological Society Bulletin. But the term "lake effect" wasn't in use until about 1970—around the time when satellite imagery became available and those distinctive multi-bands of snow across the lakes could be seen.
Continuing improvements in satellite and radar imagery have enhanced forecasting, but it's still difficult to predict. "Meteorologists can generally forecast the currents of lake-effect snow in the region, but exactly which areas will be hit is hard to say," Monmonier says.
Lake-effect snows tend to be light, powdery and easy to shovel as compared to large rotating storms that bring in enormous amounts of moisture-laden—or synoptic—snow from the Atlantic, as experienced in recent winters by major regions of the East Coast.
Monmonier also looks at the effects of climate change on what we might expect in the future. "As the lakes remain warmer longer, and assuming there's cold air streaming across these lakes, there is going to be an actual increase in lake-effect snow," Monmonier says.
This year, warmer temperatures—meaning warmer lakes—are forecast, but it's always a toss-up, especially in practical terms of driveway snow removal. Pay by the year or by the plow. "My wife wants to pay by the plow this year, but my hunch is as soon as we switch to that then we'll be guaranteed to get lots of snow," he says.
Monmonier will give a talk and sign copies of his new book Nov. 1 at 7 p.m. at Barnes & Noble, Erie Boulevard, DeWitt; Nov. 15 at 6 p.m. at River's End Bookstore, 19 W. Bridge St., Oswego; Nov. 16 at 6:30 p.m. at RiverRead Books, 5 Court St., Binghamton; Nov. 19 at 7 p.m. at Creekside Books & Coffee, 35 Fennell St., Skaneateles; and Nov. 27 at 7 p.m. at Barnes & Noble, 3349 Monroe Ave., Rochester.
He will also appear Oct. 31 on WSYR-TV's "Bridge Street."