'Juju Rules' author Hart Seely will hold book reading, signing at Newhouse Oct. 3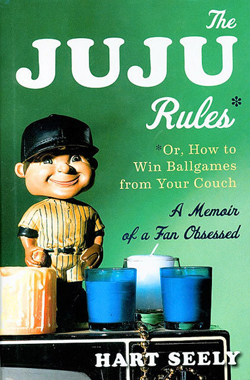 Writer and humorist Hart Seely, award-winning reporter for the Syracuse Post-Standard, will visit the Newhouse School Oct. 3 for an event featuring his recently-published book, "The Juju Rules: Or, How to Win Ballgames from Your Couch: A Memoir of a Fan Obsessed" (Houghton Mifflin Harcourt, 2012). He will read excerpts and sign books starting at 7 p.m. in the I-3 Center, 432 Newhouse 3. Seely is an adjunct in the Newhouse School's magazine department, which is hosting the event.
"Juju Rules" is a humorous autobiography chronicling Seely's obsession with the New York Yankees and his arguably superstitious techniques for "helping" the team win. One reviewer described the book as "nostalgic, heartwarming and laugh-out-loud funny."
Seely's humor pieces have appeared in The New Yorker, The New York Times, National Lampoon, The New Republic, Village Voice, Slate, Spy and NPR. He has written or edited five books, including "O Holy Cow: The Selected Verses of Phil Rizzuto" (Harper Paperbacks, 2008) and "Pieces of Intelligence: The Existential Poetry of Donald Rumsfeld" (Free Press, 2003).
For more information about the event, contact Melissa Chessher at 315-443.4038 or mchesshe@syr.edu.