Media, Law & Policy
Journalist Scott MacFarlane '98 will discuss 'getting the story and getting the job'
Getting the story and getting the job. For journalists, the strategies for each are strikingly similar, says Cox Television correspondent Scott MacFarlane '98 (@MacFarlaneNews). Come hear him speak at the Newhouse School on Monday, Oct. 1, at 7 p.m. in Room 102 Newhouse 2; or follow the event on Twitter at #MacFarlane.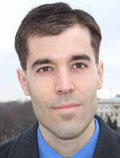 MacFarlane, an alumnus of Newhouse's broadcast and digital journalism program, has worked as a major market reporter at stations in Detroit, Cleveland and Washington, D.C.
Since 2005, he has been the Washington correspondent for Cox Media Group. There, he serves as an investigative and enterprise reporter, overseeing all special projects stories and executing major investigative pieces for 11 TV affiliates nationwide.
He has interviewed presidents, Congressional lawmakers and governors, as well as moms, dads, blue-collar workers, white-collar workers, job-seekers, doctors, patients, lawyers, crooks and everyone else served by government and affected by government neglect.
His talk is free and open to the public. For more information, contact Jessica Tarrats at 315-443-1944 or jtarrats@syr.edu.