Distinguished alumni panel will speak Oct. 4 on emerging issues in immigration law
Three distinguished Syracuse University College of Law alumni will participate in a panel discussion on "Emerging Issues in Immigration Law" on Thursday, Oct. 4, at 7 p.m. in Maxwell Auditorium.
The discussion, held in honor of Latino Heritage Month 2012 (Sept. 15-Oct. 15) is sponsored by the Office of Program Development, the College of Law and the Office of Multicultural Affairs. The event is free and open to the public. RSVPs are requested to 866-706-1372 or pdevelop@syr.edu.
The panelists will be Sylvia M. Montan, L'94, managing partner and president of the law office of Sylvia M. Montan PLLC in New York City; Jose E. Perez L'07, an attorney in private practice in Syracuse; and Ramon E. Rivera L'94, a partner with Mackenzie Hughes LLP in Syracuse.
Among the topics the panelists will discuss are developments from recent Arizona v. United States Supreme Court decision and the effect that it may have with other states looking to make similar policy; the "Show your Papers" rule; deferred action for childhood arrivals; and what these developments mean during an election season.
"We live in a nation of immigrants. No matter what we do or with whom we interact through our daily routines, we all know a family member, a neighbor, a colleague, who has left his country to make a better life for himself in the 'land of opportunities,'" says Montan. "It is critical to have an understanding of where our government stands on immigration issues and develop a sensitivity to the struggles we all endure as a result of our policies."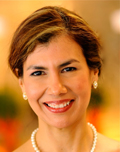 Montan has more than 16 years of experience practicing in the area of U.S. immigration law, managing immigration matters for Fortune 500 corporate clients, not-for-profit organizations and individuals.
She is a graduate of Fordham University's Fordham College and the SU College of Law, where she was editor of the Journal of International Law and Commerce. She was recipient of the L.F.E. Goldie Memorial Award, Journal of International Law and Commerce Symposium Editor Award and the Journal of International Law and Commerce Award.
In addition to corporate immigration, she has also handled issues such as naturalization, asylum, deportation and family-based immigration—assisting individuals in the United States who wanted to bring their families from overseas. In 2009, she opened her own practice. While the focus of her practice is institutional clients, she also works closely with individuals and foreign entrepreneurs seeking to set up business operations in the U.S.
She is a member of the American Immigration Lawyers Association (AILA). She has served as a guest judge in the New York University Law School Immigration Law Competition and is a frequent speaker on immigration law topics to the legal and human resources communities.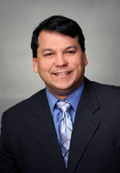 Perez began his career as an attorney in Venezuela, where he was recognized several times by the Miranda State Bar Association. In 2002, he came to the U.S. to further develop himself academically and professionally. After graduating cum laude from the College of Law in 2007, he joined the Smith Sovik law firm.
This year, he opened his own law firm and has been involved in all areas of litigation, including construction, labor and employment, premises liability, motor vehicle accidents, workers' compensation and immigration. He has been a speaker/panelist at numerous events dealing with his legal practice and immigration issues. He writes a "Know Your Rights" column in the local CNY Latino newspaper.
Perez has received numerous awards, including the 2009 Latino Leadership Award; 2010 40 Under 40 Rising Latino Star in New York State; 2011 HNBA Presidential Pro Bono Recognition Award; 2011 40 Under 40 of Central New York; and 2011 Service Award in Recognition of Outstanding Pro Bono Service, among others.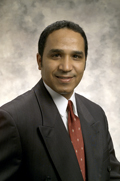 Rivera, a partner at Mackenzie Hughes, has been with the firm since 2001, and handles immigration and naturalization law in the firm's business law department. A member of the American Immigration Law Association, he is an adjunct professor in the College of Law, where he teaches immigration law, and has also lectured at the Onondaga County Bar Association's continuing legal education program on the topic of business immigration.
Prior to joining Mackenzie Hughes, Rivera was the managing partner at Micale & Rivera, LLP, and a solo practitioner at Rivera Law Firm, where he counseled/represented individual and corporate clients in obtaining non-immigrant and immigrant employment-based visas. He also assisted corporate clients in relocating foreign executives and managers to the U.S.; counseled international business entities with customs and trade issues; counseled employers regarding I-9 verification and compliance issues; and represented employers charged with I-9 paperwork violations, unfair immigration employment practices, and related document fraud before the U.S. Department of Labor and the U.S. Immigration and Customs Enforcement (ICE). Rivera has also counseled and represented individual petitioners in family-based immigration matters before the Buffalo INS District Office, the Regional INS Service Centers and the U.S. State Department, among many other responsibilities.
Rivera collaborated on the writing of "Immigration Strategies for Companies" published in January 2009, authoring the chapter entitled "What Your Company Needs to Know About Immigration in Today's Economic and Regulatory Environment." This book is an authoritative insider's perspective on key strategies for advising companies in hiring foreign workers and complying with immigration regulations.
He was recognized in 2001 by The Central New York Business Journal as one of "40 under 40," and in 2011 was awarded the Syracuse University Chancellor's Citation for Distinguished Achievement in Law.