Arts & Culture
VPA Advisory Council members establish post-M.F.A. engagement fellowship; inaugural fellow named
The College of Visual and Performing Arts (VPA) has announced the establishment of the Ginsburg-Klaus Post-M.F.A. Engagement Fellowship. The academic, yearlong fellowship, which includes a residency in San Pedro, Calif., is funded through a gift by VPA alumna Marylyn Ginsburg-Klaus '56, G'57 and her husband, Charles Klaus '07, who both serve on VPA's Advisory Council.
Graduates of VPA's master of fine arts (M.F.A.) degree programs in the Departments of Art and Transmedia are eligible for the Ginsburg-Klaus Post-M.F.A. Fellowship, which includes housing in San Pedro, a stipend and the opportunity to teach at Marymount College in San Pedro.
"We are proud to be able to offer this opportunity for a talented Syracuse University M.F.A. graduate to join us and share an experience in the visual arts that is unique to the West Coast and particularly to the Los Angeles Harbor community," say Ginsburg-Klaus and Klaus. "Our goal was to find a person as committed to service as we are and that the local community as well as the students of Marymount College might benefit from this interaction."
Ginsburg-Klaus owns Grand House Management Co., the Whale & Ale and the Grand Emporium in San Pedro, a growing artists' residency location where she and Klaus are deeply involved in the art and commerce communities. In 2010, the couple founded the Ginsburg-Klaus Art in Los Angeles Practicum Week, which allows a group of students in VPA's Departments of Art and Transmedia to undertake an intensive investigation of art collections housed in the city's most significant museums, as well as visit galleries and contemporary artist studios to hear from prominent artists, curators and gallery owners, many of whom are accomplished SU alumni.
"The fellowship is an incredible opportunity for our students," says VPA Dean Ann Clarke. "To be able to live, teach and work as an artist in a culturally rich community like San Pedro is a wonderful and valuable way to begin your post-graduate career. We're thankful to Marylyn and Chuck for continuing to support the professional development of our students through the fellowship as well as the Art in LA experience."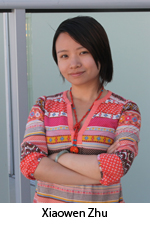 VPA has announced that the inaugural, 2012-13 fellow is Xiaowen Zhu G'12, who graduated from the Department of Transmedia's art video M.F.A. program in May. Zhu uses video to explore her interest in the change of personal perception in a global nomadic context. Much of her work deals with the motivation and reflection of going/existing elsewhere and the in-between space of a culturally complex environment.
Zhu currently teaches for Marymount's Division of Arts & Media and is the co-manager of Marymount's Arcade Gallery, where she is presenting the solo exhibition "There Is No Why" through Sept. 25. The exhibition features videos created over the past four years that span five countries and three continents.
"Xiaowen is exceptionally intelligent, highly self-motivated and curious across a broad spectrum of fields," says Tom Sherman, professor and coordinator of the undergraduate and graduate art video programs. "She has made accomplished documentaries and single-channel video art works over the past few years and has grown dramatically in terms of experimental works, including radical projection systems and interactive displays. She insists on remaining open to new, unconventional ways of doing things and in pursuing multiple perspectives in making art."
Zhu, who earned a bachelor's degree in film, television and media art from Tongji University in Shanghai, China, has exhibited her work in cities around the world, including Syracuse; New York; Chicago; Rotterdam; Istanbul; Berlin; Munich; Florence; Norwich, United Kingdom; Shanghai; Toronto; and Athens. To learn more about Zhu and see examples of her work, visit http://www.zhuxiaowen.com.