Veterans
EBV grad business ranked #106 by Inc. Magazine as one of 500 fastest growing private companies
Former Marine John Raftery credits EBV with helping him launch, grow Patriot Contractors
Patriot Contractors, a specialty construction company owned and operated by 2007 Entrepreneurship Bootcamp for Veterans with Disabilities (EBV) program graduate John Raftery (U.S. Marine Corps, retired), was named by Inc. Magazine in its Sept. issue as number 106 of America's 500 fastest growing private companies. Ranked fifth in construction, Patriot Contractors was also the sixth fastest growing company in the Dallas area.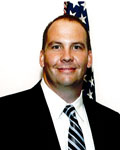 "Now, more than ever, we depend on Inc. 500/5000 companies to spur innovation, provide jobs and drive the economy forward. Growth companies, not large corporations, are where the action is," says Inc. editor Eric Schurenberg. The companies on this year's list created more than 400,000 jobs in the past three years, with aggregate revenue among the honorees reaching $299 billion.
Based in Waxahachie, Texas, Patriot Contractors is a full-scope specialty contractor with the demonstrated experience to provide products and installation for any building specialty application, including military and government facilities, manufacturing plants, distribution centers and warehouse facilities. Patriot provides a full range of value-added services from estimating and helping customers develop specifications for their projects to complete project management and installation. A service-disabled, veteran-owned interior specialty contractor, the firm provides construction services, building specialties, doors and hardware, institutional furniture and interior finish-out. Patriot is based in Texas, but operates in more than 15 states across the U.S.
"We are very blessed and honored to be recognized on the Inc. 500 list of America's fastest growing private companies. We will continue to deliver strong results for our customers while constantly finding ways to innovate and improve our services," says Raftery, CEO and founder. "In addition, as a veteran business owner, it is important for me to recognize the training I received in entrepreneurship and small business management through the EBV program, founded at Syracuse University. I graduated from the program in 2007 and the online training, residency experience and ongoing support and mentorship have been critical to my successful transition from post-service to operating a successful venture. Entrepreneurship has truly been an important step for me in making the 100 percent transition since leaving the Marine Corps."
"The entrepreneurial journey that John has taken since leaving military service and graduating from our program could be any veteran's story given the right tools, training, support and drive. A successful service-disabled veteran entrepreneur who has pursued the American dream of business ownership and is fueling our nation's economy through his venture, he is also supporting veteran employment by hiring and supporting his fellow veterans who he knows are an asset to the nation's workforce. The truest embodiment of a successful vetrepreneur, I am proud of John and, more importantly, further driven to see his story repeated 10 times over for the thousands of veterans returning to the civilian workforce during the next decade," says Institute for Veterans and Military Families (IVMF) Executive Director and founder Mike Haynie, EBV creator and one of Raftery's instructors in the program.