Digital Witness Symposium to be held Oct. 4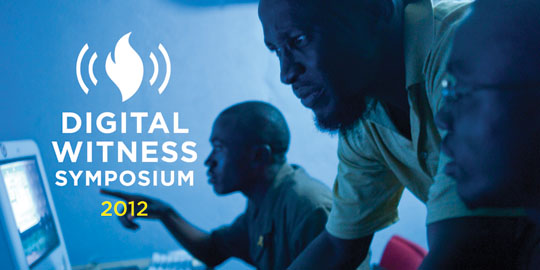 The Central New York Humanities Corridor, supported by an award from the Andrew W. Mellon Foundation, will present the annual Digital Witness Symposium on Thursday, Oct. 4, at 7 p.m. in the Joyce Hergenhan Auditorium in Newhouse 3. Follow the event on Twitter at #DWS2012.
The symposium is free and open to the public. Co-sponsors are the Syracuse University Humanities Center, the S.I. Newhouse School of Public Communications and the Middle Eastern Studies Program.
American Sign Language interpretation will be provided.
Now in its third year, the Digital Witness Symposium has grown into a regional event through collaboration with the University of Rochester, which will also be hosting this year's speakers earlier in the week. "Through the generous support of the CNY Humanities Corridor, we've been able to grow the symposium into a multi-venue event that furthers the intellectual connections between our two campuses," notes Roger Hallas, associate professor of English and co-organizer of the symposium.
The Digital Witness Symposium invites cutting-edge mediamakers, programmers and scholars to discuss how the changing digital ecology is opening up new opportunities and challenges for human rights media. This year's symposium explores the dynamics of transnational collaboration and collective multimedia storytelling.
Documentary filmmaker and journalist Jigar Mehta will discuss the crowd-sourced documentary project about the ongoing Egyptian revolution, "18 Days in Egypt." Ken Harper from the Newhouse School will present his multimedia project "Together Liberia," which empowers students and journalists in war-torn Liberia to tell their own stories and develop institutional relationships with the national media.
Mehta is a digital entrepreneur, filmmaker and journalist. He was a 2011 John S. Knight Journalism Fellow at Stanford University, and is currently a board member of the South Asian Journalists Association. Mehta is also the co-founder of GroupStream, an online collaborative storytelling platform. Mehta was previously with the New York Times as a video journalist, where he regularly worked with the multimedia team to produce stories that could only be told using video and the web and pushed the boundaries of nonfiction storytelling.
Harper is an award-winning multimedia designer and photojournalist and an assistant professor of multimedia, photography and design at the Newhouse School. He is also the director of digital and visual Media for New Narratives, an association of African Journalists for Change.