Media, Law & Policy
Award-winning author, journalist Deborah Scroggins will speak on religious extremism Oct. 1
Author and journalist Deborah Scroggins (@ScrogginsDeb) will visit the S.I. Newhouse School of Public Communications on Monday, Oct. 1, as a guest of the Carnegie Religion and Media program. She will speak on "Muslim Rage? How Extremists on Both Sides Empower Each Other" at 3:45 p.m. in the Joyce Hergenhan Auditorium in Newhouse 3. Follow the event on Twitter at #Scroggins.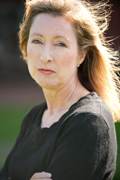 Scroggins is an accomplished journalist with over 20 years of reporting experience. She is the author of "Emma's War" (Vintage, 2004), which was translated into 10 languages and won the Ridenhour Prize for Truth-Telling. Her newest book is "Wanted Women: Faith, Lies, and the War on Terror: The Lives of Ayaan Hirsi Ali and Aafia Siddiqui"  (Harper, 2012).
She has written for Vogue, Granta, The Nation, the Sunday Times Magazine and other publications. She has won two Overseas Press Club awards and a Robert F. Kennedy Journalism Award as a foreign correspondent for the Atlanta Journal-Constitution, and was named Georgia Author of the Year by the Georgia Writer's Association.
The event is free and open to the public. For more information, contact Audrey Burian at 443-1930 or aaburian@syr.edu.