Correspondent discusses 'Obama's War on Terror' Oct. 10
Daniel Klaidman—a special correspondent for Newsweek and The Daily Beast who reports on terrorism and national security—will discuss "Obama's War on Terror" on Wednesday, Oct. 10, at 4:15 p.m. in the Miron Special Events Room (303) on the plaza level of Newhouse I. The event, free and open to the public, is sponsored by the integrated learning major in ethics in The College of Arts and Sciences.
For more information, contact Samuel Gorovitz, professor of philosophy, at 315-443-9331 or sgcas@syr.edu.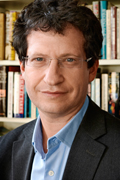 The conversation with Klaidman will draw on his new book, "Kill or Capture: The War on Terror and the Soul of the Obama Presidency" (Houghton Mifflin Harcourt, 2012), which The Wall Street Journal says is arguably the "most thorough account of America's recent national-security efforts … before the November election."
"Daniel Klaidman, an exemplary investigative reporter, provides rare insight into how recent national security decisions have been made," says Gorovitz, who has known Klaidman for decades. "To have him visit on the eve of a presidential election is a rare opportunity."
Since 1996, Klaidman has held a variety of positions at Newsweek. From 2006-2011, he was the magazine's managing editor. Before that, Klaidman was its Washington, D.C., bureau chief, leading Newsweek's award-winning coverage of 9/11 and of the wars in Iraq and Afghanistan. He has also served as Newsweek's Middle East correspondent in Jerusalem and as an investigative reporter in Washington, D.C.
Last fall, Klaidman was Ferris Professor at Princeton University, where he taught a popular seminar on national security reporting.
"The stories Daniel Klaidman writes—dealing with counter-terrorism and military affairs—are important and challenging," adds Gorovitz. "As someone who has seen how secrecy can lead to abuse, he has also had to grapple with the ethics of revealing of national security information."