Campus & Community
Colleen Bench appointed assistant vice president for student affairs
Colleen O'Connor Bench has been appointed assistant vice president for the Division of Student Affairs (DSA).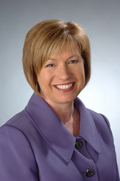 Bench joined the University in 1991 and became director of the Parents Office in 1993, where she has managed the administrative, financial and operational activities of the office. For more than 20 years, Bench has served as the primary liaison between parents and the University, performing as institutional respondent to their concerns and emergencies.
In addition to overseeing the Parents Office, in this new role Bench will expand upon her current responsibilities for crisis management and will deepen her collaborations with the Office of Advancement and External Affairs, Office of Admissions and Office of Alumni Relations.
"Colleen has served Student Affairs as a bridge builder to a wide array of campus constituencies, and has been pivotal in our crisis response agendas," says Thomas V. Wolfe, senior vice president and dean of student affairs. "In this position, she will continue to deepen relationships and further enhance the effectiveness of the division, both on campus and beyond."
As the principal coordinator for responding to student crises for the senior vice president and dean, Bench will develop and manage the 24/7 on-call, first-response crisis system and monitor the crisis response. She will also collaborate with divisional experts on the development of protocols for the division.
Additionally, Bench will assist the senior vice president and dean in the creation of development priorities and strategies for DSA, and will be responsible for collaborating and coordinating with the Office of Advancement and External Affairs in the cultivation of major gifts. She continues to serve as the divisional liaison to domestic geographies of opportunity, and partner with Admissions in activities for visiting prospective students and their parents on campus, as well as with Alumni Relations at regional New Student Sendoff receptions.
"Focusing on the broader concerns of students at Syracuse University, and serving the Division of Student Affairs in this capacity, is an honor for me," says Bench. "I look forward to strengthening the relationships with our campus partners and coordinating our work with students and families in crisis situations. Our response to such an experience is critical, and having the support and expertise of trained and caring colleagues, both within the division and beyond, plays a key role in our capacity to support our students and families."
A native of Central New York, Bench received her master's degree in higher education from Syracuse University, a bachelor's degree in marketing management from Clarkson University and an associate's degree in business administration from SUNY at Canton. She was the founding president of the board of directors for the Association of Higher Education Parent and Family Program Professionals (AHEPPP), formerly served on the advisory council of College Parents of America, and is a frequent presenter at national conferences.