Shall we play a game?: Merging citizen science and video games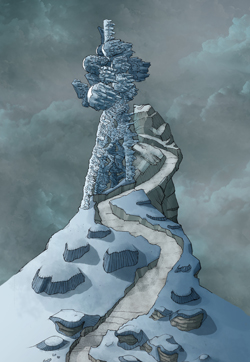 In the mysterious online world of "Forgotten Island," you'll investigate the destruction of a biology lab, encounter domineering robots and solve puzzles to find your way out of the conundrum. You'll also be helping real-life scientists better understand the creatures of the natural world.
"Forgotten Island" and its counterpart, "Happy Match," are ingenious video games with a twist.
The games were created by researchers, designers and developers as part of a School of Information Studies research project, Citizen Sort, funded by the National Science Foundation. The games combine engaging adventure and problem-solving with citizen science—scientific projects that involve the public as active participants.
Inside the games, real-life photos of moths, sharks and plants appear to players who must classify them based on color, size and other features to earn points and unlock puzzles.
Players compete in a challenging game—and maybe learn something in the process. Scientists gain information on thousands of specimens. And iSchool researchers gather invaluable data to better understand the effectiveness of gaming in citizen science projects.
"We want to know how do we engage people to do purposeful things with a game and then also how do we design a game like this to maximize data quality for scientists," says lead designer Nathan Prestopnik '01, G'06, a Ph.D. candidate studying human-computer interaction.  "But we also want people playing the game to get something out of it, to be entertained."
The Citizen Sort team unveiled the games Monday during an open house at Hinds Hall for visitors interested in playing the games. "Happy Match" is available to play. "Forgotten Island" goes live Oct. 12.
Citizen Sort was the result of a research proposal on the connections between social behavior and computer systems by Distinguished Professor of Information Science Kevin Crowston, the principal investigator, and then-Ph.D. candidate Andrea Wiggins G'11. With a background in design, Prestopnik joined the research team and iSchool Professor Jun Wang became an investigator on the project.
"My students and I had been doing research on how citizen science projects work. As a follow-up project, we wanted to develop new systems to support such projects," Crowston says. "We did a preliminary survey of systems and noticed, first, that there was a need to deal with large collections of photographs that people were contributing and second, that few projects were using games as a way to motivate participation."
They developed the game systems with two goals in mind: "First, to explore how well game features work as a motivator and second, whether game-playing participants can provide high-quality data about the species," Crowston says.
Students began brainstorming content in the summer of 2011 and into the fall. Prestopnik then headed up the work of 16 students to design the video games and the Citizen Sort web site. The student developers, designers and artists were from the iSchool, L.C. Smith College of Engineering and Computer Science, College of Visual and Performing Arts, School of Architecture and the S.I. Newhouse School of Public Communications.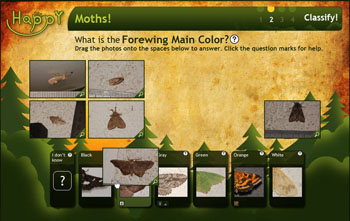 To feed the web site with images, Dania Souid '13, a broadcast journalism and French major who coordinates marketing and communications, works with the scientists who have photograph collections, including a University of Georgia naturalist with tens of thousands photos of moths, and such organizations as Encyclopedia of Life that have collected photos from the public.
The team is looking to the long-term sustainability of the games after the grant ends. It will need a server to host the games and people to maintain what they hope will be a useful project for a long time. "We're hoping it expands to people across the globe," Souid says.
Souid has already been bitten by the bug. "Because I've classified so many moths, I've gotten good at it," she says. "When I see a moth—not even in the game—I think 'Oh, I can classify that.'"