CANCELED'Reconstructing Diderot: Eighteenth Century French Bookbinding' Nov. 1
Jeffrey S. Peachey, a book conservator, tool maker and historian of the book, will present an illustrated lecture entitled "Reconstructing Diderot: Eighteenth Century French Bookbinding" on Thursday, Nov. 1, at 4 p.m. in the Peter Graham Scholarly Commons in Bird Library. The lecture is free and open to the public, with a reception to follow.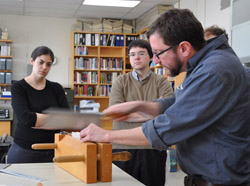 In this image-driven, fast-paced overview of 18th century French bookbinding, Peachey will examine the larger questions associated with the history of craft and material culture, the transmission of textual information and, of course, the history of bookbinding.
Book structures of the late 18th century represent one of the most radical transformations since the invention of the multisection codex: by the mid-19th century, the machine-made cloth case binding begins to dominate book structures.
Peachey will illustrate the historical context of how these books were made and discuss physical evidence found in documentation by Diderot, Dudin and other sources. He will give particular attention to the tools and techniques used to produce these bindings.
For more information, contact Peter Verheyen at 443-9756 or email pdverhey@syr.edu.