SU to hold day of remembrance Oct. 10 for Bassel Shahade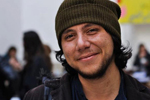 Syracuse University will host a day of remembrance for slain Syrian film student Bassel Shahade on Wednesday, Oct. 10. Shahade, a Fulbright Scholar and native of Damascus, Syria, was killed in Homs, Syria, on May 28 while working as a citizen journalist. He was pursuing a master of fine arts degree in film in SU's College of Visual and Performing Arts (VPA).
The day will include a memorial service; a symposium on Shahade and Syria with musical interludes, featuring musician/educator Mohamed Alsiadi, pianist/composer Malek Jandali, journalist Rami Khouri '70 G'98 and James B. Steinberg, dean of SU's Maxwell School of Citizenship and Public Affairs; and a concert featuring performances by Jandali and Alsiadi. Both the symposium and concert will feature a screening of several of Shahade's short films.
The concert with Jandali and Alsiadi is presented in conjunction with the 2012 Syracuse International Film Festival, which will be held Oct. 11-14 and is dedicated to Shahade and the themes of peace and social justice. Ticket proceeds and donations from the concert will establish a festival award in Shahade's name for a filmmaker whose work is on critical social justice issues in an effort to create positive change. The Filmmaker Award for Peace & Social Justice will become a continuing focus of the festival in the years ahead.
Shahade was a student of the festival's artistic director, Owen Shapiro, a professor of film at VPA, and Shahade served as director of the videography archival team for the 2011 festival.
"A filmmaker is a person who studies, experiences and expresses the world," says Shapiro. "A filmmaker cares about people, is creative, has social and political commitments and tries in a modest way to make the world a little more understandable, a little bit more compassionate place for all; a person who fights, through the use of sounds and images, injustice and intolerance. Bassel was a filmmaker, and we all will sorely miss him."
The day is sponsored by Laila and Edward Audi, with additional support from VPA's film program in the Department of Transmedia and SU's Graduate Student Association.
The schedule for the events on Oct. 10 is as follows. All events are open to the public.
Memorial service, 10:30 a.m., Hendricks Chapel. Free parking is available in the Irving Garage. Patrons should mention to the garage attendant that they are attending the memorial.
Symposium on Shahade and Syria with Alsiadi, Jandali, Khouri and Steinberg, 2 p.m., Maxwell Public Events Room, 220 Eggers Hall. Shahade's short films will also be screened. Free. Free parking is available in the Irving Garage. Patrons should mention to the garage attendant that they are attending the symposium.
Concert featuring Jandali and Alsiadi, 7 p.m., Setnor Auditorium, Crouse College. Shahade's short films will also be screened. Concert tickets are $12 for students, $25 for the general public and $100 for a sponsor ticket, which includes concert admission and a donation to the festival filmmaker award fund. Tickets will be available and donations accepted at the door; tickets may also be reserved by calling the Syracuse International Film Festival office at 315-443-8826. Free and accessible parking is available in the Q-1 lot, with additional free parking available in the Irving Garage. Patrons should mention to the parking attendant that they are attending the concert.
Mohamed Alsiadi


Alsiadi has an extensive background in music theory, composition, performance and conducting. As one of the first students of the Damascus Music Conservatory in Syria, he studied these subjects while specializing as a performer of the Middle Eastern lute, oboe and piano. While still a student, he built on his studies as an instructor of music performance and theory in Syria. He first taught music at the Aleppo Academy and subsequently instructed lute performers at the Aleppo Youth Academy, became an educator at the Damascus Arab Music Institute and taught courses on Arabic music theories and music history at the Damascus Music Conservatory.
Alsiadi moved to New York in 1996 and is currently project chair of the US-MidEast Program for the Center for the Study of Genocide, Conflict Resolution and Human Rights; a lecturer in Arabic in the Department of Spanish and Portuguese Studies; and a doctoral candidate in American studies at Rutgers-Newark in New Jersey.
Throughout his career as a musician, Alsiadi has undertaken research in music history and theory. As a lute soloist, he has performed in New York, Algeria, Egypt, Lebanon, Spain and Syria. As a conductor, he has led orchestral and choral ensembles in Beirut, Cairo and Damascus. As a doctoral candidate, his research interests include issues related to Arab American identity post-9/11; the impact of East-West relations on contemporary Arabic music and literature; Aleppian Waslah performance in the diaspora; and the use of Islam to democratize groups and nations. Learn more at www.alsiadi.com.
Malek Jandali


Born in Germany to Syrian parents, award-winning composer and pianist Jandali is recognized as a leading figure in today's piano world. His musical career as a concert pianist began in 1988 after he won first prize at the National Young Artists Competition, followed by the 1997 Outstanding Musical Performer Award. A prolific composer, Jandali's works have received critical acclaim in major newspapers throughout Europe and North America. He is the first Arab musician to arrange the oldest music notation in the world, which was featured in his 2008 album "Echoes from Ugarit" (Soul b Music).
In 2011, Jandali received the Freedom of Expression award for his song "Watani Ana (I am my Homeland)" as well as his activism in the Arab Spring movement for human rights and democracy. His latest album "Emessa" (CD Baby) includes original compositions recorded with the Russian Philharmonic Orchestra. The music was inspired by the 2011 historic Syrian revolution and courageous stand of the people against brutality and dictatorship.
Jandali currently resides in Atlanta and is a member of the Recording Academy and the American Society of Composers, Authors and Publishers (ASCAP). Learn more at www.malekjandali.com.
Rami Khouri '70 G'98


Khouri is a Palestinian-Jordanian and U.S. citizen whose family resides in Beirut and Nazareth. He is the director of the Issam Fares Institute for Public Policy and International Affairs at the American University of Beirut, as well as a columnist at the Beirut-based Daily Star newspaper. He is also an internationally syndicated political columnist and book author and fellow at Harvard's Kennedy School and the Dubai School of Government. He holds a bachelor of arts degree in political science and a master of science degree in journalism from SU.
Khouri has been a visiting scholar at Stanford, Syracuse, Tufts and Northeastern universities and Mount Holyoke College, and in 2006 he was the co-recipient of the Pax Christi International Peace Award for his efforts to bring peace and reconciliation to the Middle East. He was a Nieman journalism fellow at Harvard in 2001-02 and recently served for four years on the international advisory board of the International Committee of the Red Cross.
James B. Steinberg


Steinberg is dean of the Maxwell School and University Professor of Social Science, International Affairs and Law. Prior to becoming dean in 2011, he was U.S. Deputy Secretary of State, serving as the principal deputy to Secretary of State Hillary Rodham Clinton. From 2005-2008, Steinberg was dean of the Lyndon B. Johnson School of Public Affairs at the University of Texas. He previously was vice president and director of foreign policy studies at the Brookings Institution in Washington, D.C., where he supervised a wide-ranging research program on U.S. foreign policy.
Steinberg served as deputy national security advisor to President Clinton from 1996-2000. During that period he also served as the president's personal representative to the 1998 and 1999 G-8 summits. Prior to becoming deputy national security advisor, Steinberg served as director of the State Department's policy planning staff and as deputy assistant secretary for analysis in the Bureau of Intelligence and Research. His most recent book is "Difficult Transitions: Foreign Policy Troubles at the Outset of Presidential Power" (Brookings Institution Press, 2008) with Kurt Campbell.