Student engagement helps thrift store thrive
On a mild late summer afternoon, shoppers are doing some browsing at the new trendy store on campus. One woman carefully considers a stylish blouse, while another is checking out black handbags and high-heeled shoes. This isn't a typical store you'd find in the mall, though. It's the newest kind of thrift store, owned by the Syracuse Rescue Mission. It's called 3fifteen, and Syracuse University students are playing a key role in the operation's success.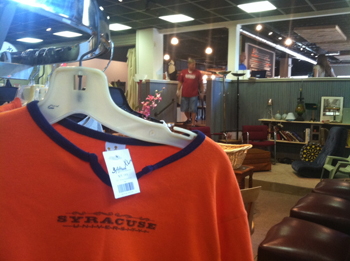 "This store is doing exceptionally well" says sales manager Brent Piech, who adds, "The college students are great because they add a lot of fresh ideas."
Among the fresh ideas is the name of the store. It's called 3fifteen (after the local area code), and while Orange is the theme, the store is stocked with a variety of secondhand items, all in excellent shape. Says Piech, "we want it to appeal to the college student and people who work on the hill."
3fifteen's motto is "shop for a greater good," with proceeds from the store helping homeless people in Central New York. It's also in line with SU's philosophy on community engagement, with students involved in the University's Students in Free Enterprise organization (SIFE) working there. Students help run the operation and play a key role in inventory, marketing and management.
"The experience you get here is phenomenal " according to Camellia Loojune , a senior accounting major. "Working in audit, I get the other side of the operation, the whole process. You don't always get that by reading a textbook or cramming for an exam. This opens up the other side of the business."
Professor of retail practices Amanda Nicholson from the Whitman School of Management is a believer. "Theory is theory," she says, "but practice is invaluable. For many students, this is where they'll develop leadership skills, time management." All of the work done by students at 3fifteen is during their spare time, according to Nicholson, who says this is "not a class, which means they're putting in countless hours in here that don't necessarily lead to a grade. It's much bigger than that."
3fifteen is located on the ground floor of the Marshall Square Mall. All donations there are tax deductible.