Campus & Community
Disability Cultural Center hosts open houses on Sept. 14 and 21
Syracuse University's Disability Cultural Center (DCC) within the Division of Student Affairs is hosting two "Welcome Nights" for students, faculty, staff and community members on Fridays, Sept. 14 and 21, from 4-6 p.m. At this newest center on campus, attendees will have the chance to meet the DCC staff, learn about disability culture and identity and experience the first center of its kind in the United States.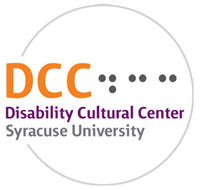 "We are truly delighted to welcome everyone from our campus community to celebrate with us in the opening of the DCC this semester," says Diane Wiener, director of the DCC. "We look forward to many years of meaningful conversations, civic engagement, enthusiastic collaboration and advocacy, as well as to just having fun and enjoying life, together."
The DCC is located at 805 South Crouse Ave., in Room 105 of the Hoople Building, and the open-house events will also be taking place in rooms 106 and 108. Light refreshments will be served. American Sign Language interpretation will be provided.
If attendees require any accommodations, email Alex Umstead, graduate assistant for the DCC, at aumstead@syr.edu by Friday, Sept. 7, at 5 p.m.
The initiative to create a University-wide DCC began after the Chancellor's Task Force on Disability recommended the establishment of a center in its 2007 report to the Chancellor. The DCC functions as an umbrella organization under which social, cultural and educational programming related to disability and disability culture takes place. It is a partner to other existing programs, groups and departments across campus, including the Beyond Compliance Coordinating Committee; the Disability Student Union; the Disability Law Society; the Office of Disability Services; the Lawrence B. Taishoff Center on Inclusive Higher Education; the Center on Human Policy, Law and Disability Studies; the Disability Law and Policy Program; the Burton Blatt Institute; the ACCESS and OnCampus programs; and the Institute on Communication and Inclusion.
"The DCC provides a place intentionally designed to create disability community, culture and pride across the University," says Wendy Harbour, Lawrence B. Taishoff Professor for Inclusive Education and executive director of the Taishoff Center.
The DCC works to:
establish and celebrate a community that fosters pride in one's identity and creates a culture of inclusion;
build a community that values the capabilities of all people and recognizes that all individuals have the potential to excel and contribute to the academic and social environment at SU and beyond;
serve as a meeting place for students, faculty, staff and others who seek a safe environment in which all individuals are welcomed, respected and included as full and equal members, within both the university and global communities;
serve as a catalyst for and a sponsor of a variety of essential programs, inside and outside of the classroom. The programs will heighten awareness and understanding, as well as promote dialogue and learning about disability rights as human rights. Programs will therefore emphasize that disability rights are expressions and forms of cultural diversity;
create programming that emphasizes, but is not limited to, advancing the civic, economic and social participation of persons with disabilities in a global society;
serve as a resource for sharing information on media, periodicals and other readings, websites, services, advocacy groups and local, regional, national and international organizations that focus on disability issues, including the history of disability, pedagogy and disability, and disability culture; and
work collaboratively with other campus organizations and offices that celebrate difference.
For questions or more information, please call the DCC at 443-4486 or email Wiener at dwiener@syr.edu.