XL Projects presents 'gnome-worthy' work of SU design students
Each fall, Department of Design faculty members in Syracuse University's College of Visual and Performing Arts (VPA) review student projects on display in the department's home at The Warehouse and place a gnome statue next to the most deserving work in a variety of categories. This spring, the "Gnome Show," an exhibition of last fall's gnome-winning projects, is on display through April 29 at XL Projects, 307–313 S. Clinton St., Syracuse.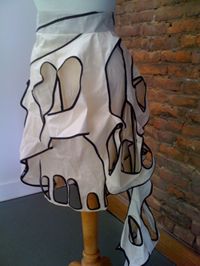 The "Gnome Show" is free and open to the public. A reception will be held Thursday, April 19, from 6-8 p.m. in conjunction with Syracuse's Th3 (the Third Thursday). Regular exhibition hours are Wednesday-Sunday, noon-6 p.m.
The Department of Design is an inquisitive and intelligent community of students and faculty that addresses first hand the issues of the world around it. Concern for sustainable design practices, social issues and excellence in professional practice forms the core of the department's programs. The department offers undergraduate programs in communications design, environmental and interior design, fashion design and industrial and interaction design and a graduate program in museum studies.
For more information, contact Andrew Havenhand at ahavenhand@yahoo.com. XL Projects may be contacted at 315-442-2542 during gallery hours.