Palitz Gallery hosts Wynn Newhouse Awards Exhibition through June 15
Awards draw attention to achievements of artists who have disabilities
Created to draw attention to the achievements of artists who have disabilities, the Wynn Newhouse Awards Exhibition runs through June 15 at Palitz Gallery at Syracuse University's Lubin House, located at 11 East 61st St., New York City.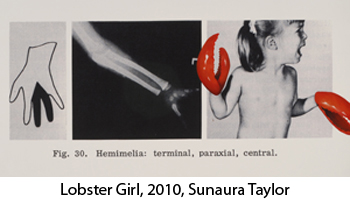 Exhibition hours are Monday-Friday, 10 a.m.–6 p.m., and Saturday, 11 a.m.-4 p.m. It is free and open to the public.  Contact 212-826-0320 or lubin@syr.edu for more information. 
The exhibition contains the works of this year's four grant winners: Barton Lidicé Beneš contributes two mixed media assemblages, including "Art Museum"; Christine Sun Kim showcases three scores; Mark Parsons has four works from his "Figure from the Ground" series; and Sunaura Taylor has three works, two on paper and one on raw canvas, in the exhibition. There is also a video displaying the works of the runners-up. 
 "The Wynn Newhouse Award helps to legitimize disabled artists," says Taylor, who uses a wheelchair. "This grant acknowledges that our perspective is valuable to a broader art dialogue and shows just how many talented artists there are who experience disability." 
Taylor has lent pieces from a larger body of work titled ANIMAL for the Wynn Newhouse Awards Exhibition. The images in ANIMAL traverse the intersection of disability, medicine, sideshow history and animal studies in both a humorous and subversive manner. "The gaze that is usually directed to sideshow and medical imagery is not simply one of voyeurism, but of a complex misunderstanding of what it means to live in an atypical body," says Taylor. "As someone who is disabled, I add a perspective that is most often absent from representations of histories." 
Beneš is an avid collector of many things, including fragments from ancient civilizations: strange—even bizarre—found objects and relics from major world events, celebrity encounters, international landmarks and the natural world. The "Art Museum" on display at Palitz gallery is a comprised of collaged shadow boxes containing thematic groupings of relics from fellow artists. "Alone, they're simply memories—placed together, in the right order, the objects create a visually interesting museum that reads like a book or a musical composition," says Beneš when describing "Art Museum," a mixed media assemblage series he began in 1992 and continues to this day. "When they are mounted they become special. When they are combined with many more similar objects in a collection, they become art." 
Kim finds her voice by way of reinvention for this exhibition; creating a new syntax and structure for her compositions.  "I combined graphic notation, musical notation and American Sign Language (ASL), and ASL 'Glossing'," says Kim. "It was a way for me to open up a new space of authority/ownership and rearrange hierarchies of information." 
The works from Parsons' "Figure from the Ground" series are a layering of information-laden materials that create Mythical drawings. "Through these works I am exploring my relation to myths both universal and personal–those that linger unavoidable through their beauty and chaos," says Parsons.  Studying the mounted image, salient points are identified by the artist, and delineated in a drawing that hovers over the print. "Like an old map or chart, the print holds one kind of subjective truth that is highlighted in the drawing.  These are my myths." 
Each of the winners receives a portion of a $60,000 per year allotment from the Samuel I. Newhouse Foundation. Nominees and winners of the Wynn Newhouse Awards are chosen by a committee composed of persons respected in the arts and disabilities communities. This group also decides how the grant money will be dispersed among the artists. The selection committee for this year's awards was comprised of: Jeffrey Hoone, curator, Syracuse University Museums and director, Light Work Gallery; Barbara Novak, art historian and artist; Brian O'Doherty, artist and critic; Thomas Shannon, sculptor; and Ursula Von Rydingsvard, sculptor. 
About the Artists
Barton Lidicé Beneš
Beneš has exhibited nationally and internationally since the late 1960s, including exhibitions at Centre Pompidou in Paris, New York Public Library, Hudson River Museum, Aldrich Museum of Contemporary Art, Boras Konstmuseum in Sweden, Old Town Hall in Prague, the Cleveland Museum of Art, National Museum of American Art, North Dakota Museum of Art, the Katonah Museum of Art, and Federal Reserve Boards in Washington, D.C., Cleveland and Dallas. His first solo exhibition was at Pavel Zoubok Gallery in New York City. 
Christine Sun Kim
Kim is a performance artist who lives and works in New York City. She is currently an M.F.A. candidate in sound/music at Bard College. Her drawings, sculptures and performances have been featured in various exhibitions and programs, among them Recess Activities, Inc., New York City; Rensselaer Polytechnic Institute, Troy, N.Y.; and Takt Kunstprojektraum, Berlin. She participated in the Youth Insights Artist Residency at Whitney Museum in 2010, and the Lower Manhattan Cultural Council Swing Space program in 2009. 
Kim has been the recipient of various awards, such as Regional Scholarship from Korean American Scholarship Foundation and Emergency Grant from Foundation for Contemporary Arts. Other than creating art and giving workshops and talks, Sun Kim has been an educator at the Whitney Museum since 2006 and is actively involved in developing the programming initiatives for deaf audiences. 
Mark Parsons
It was teaching appointments at Cornell, then Pratt Institute and Hunter College that brought Parsons to New York City.  Parsons' work ranges from large sculpture, to printmaking and large wall drawings. The work usually relies on collaboration during some portion of its development, and often brings artists or architects into its realization. Parsons thinks of these as portraits—of demographic or intellectual networks.
Parsons currently teaches and serves as director of production and technology for Pratt Institute Architecture. Parsons has exhibited his work at the United Nations, the John F. Kennedy Center for the Performing Arts, the Provincetown Art Museum, the New Bedford Art Museum and numerous private galleries in New York City and elsewhere.
He lives and works in Brooklyn. 
Sunaura Taylor
Taylor is an artist, writer and activist living in Oakland, Calif. Her artworks have been exhibited at venues across the country, including the CUE Art Foundation, the Smithsonian Institution and the Berkeley Art Museum. She is the recipient of a Sacatar Foundation Fellowship, winner of VSA's Driving Force award, an Eisner Award, a Joan Mitchell Foundation M.F.A. Grant and an Animals and Culture Grant. Taylor was recently nominated for a USA Fellowship. 
Taylor has given more than a dozen talks at universities and conferences across the country and has appeared on NPR's "All Things Considered," Georgia Public Television's "State of the Arts" and numerous other radio programs. She's currently working on a book on animal ethics and disability, forthcoming from the Feminist Press (2012). She graduated from the University of California, Berkeley in the department of Art Practice with her M.F.A. in May 2008. Taylor is a co-founder of the disability arts collective Yelling Clinic. 
About the Awards
Newhouse was a prominent and avid art collector who lost functional use of one hand in an industrial accident as a young man. By midlife he was diagnosed with multiple sclerosis. Wynn conceived the Wynn Newhouse Awards in 2005.  The program provides grants to talented fine artists with disabilities as defined by the Americans with Disabilities Act. Newhouse was joined by top artists, curators and critics who shared his belief that many disabled people have unique insights and skills that can enhance their ability to create exciting art. Newhouse passed away in 2010.