Take Back the Night 2012 events begin April 9
From April 9-12, Syracuse University's Advocacy Center within the Division of Student Affairs will host a series of Take Back the Night activities and events dedicated to raising awareness about sexual and relationship violence. Members of the campus and local community are invited to take a stand against violence, raise awareness about attitudes that perpetuate violence and discuss ways to work together to make the community more safe.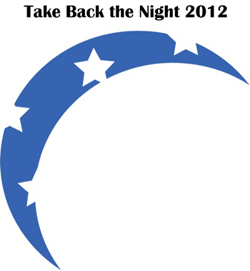 Statistics show that one in four college-age women will experience a sexual assault by the time they complete college. Surveys of college students have found that one in five students report some form of abuse within their dating relationships.
"The goal of Take Back the Night is to provide a forum for educating community members about the impact of sexual and relationship violence, and the potential for each individual to take action to prevent interpersonal violence," says Janet Epstein, director of the Advocacy Center. "Take Back the Night brings students, staff, faculty and members of the greater Syracuse community together to show support for those who have been affected by interpersonal violence."
Take Back the Night activities help spread the message that every individual plays a vital role in creating a community that is a safe and caring place to live. These events help bring SU closer to the goal of becoming a community of "empowered bystanders"—individuals who take action when witnessing potentially harmful behavior and support those who have experienced sexual and relationship violence. Take Back the Night is a time to celebrate the commitment and courage of those who have taken the pledge to become empowered bystanders, and to encourage others to do the same.
Following is the list of activities for Take Back the Night 2012. The rally and march are open to the public. Free parking is available in the SU Harrison/Lehman lots.
April 9-10, 11 a.m.-3 p.m., Hands Against Violence, Schine Student Center Atrium
April 10, 7 p.m., Breaking the Silence to Stop Violence, The Underground, Schine Student Center, sponsored by A Men's Issue (AMI)
April 11, 7 p.m., rally, march and speak-out, Hendricks Chapel
April 12, Got Consent? Day, sponsored by the University Judicial Board/Peer Education Team
Students and community members will have several opportunities to pledge that they will not use their hands for violence. Students can visit the Hands Against Violence tables at various campus locations and take part in an "Empowered Bystander" activity at the Schine Student Center on April 9 and 10.
On Wednesday, April 11, community members are invited to gather at Hendricks Chapel for a rally beginning at 7 p.m. Tiffany Braley, Vera House LGBT outreach coordinator and Mentors in Violence Prevention (MVP) educator, will be the keynote speaker at this event. Braley has many years of experience in domestic and sexual violence prevention education. She has met with various groups and classes on campus and is known for her energetic and engaging presentations.
The rally will be followed by the Take Back the Night march. At the conclusion of the march, a speak-out will be held in Hendricks Chapel, where anyone who has been impacted by sexual and/or relationship violence is invited to speak. Due to the sensitive nature of the speak-out, it is closed to the media.
For more information about Take Back the Night activities, contact Janet Epstein at 315-443-7098 or epsteinj@syr.edu.