Suzanne Guiod appointed editor in chief at Syracuse University Press
Syracuse University Press has announced the appointment of Suzanne E. Guiod to the position of editor in chief, effective June 16.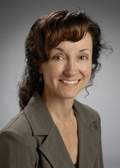 Guiod has served as editorial director of the University of Rochester Press since 2004, where she has overseen the growth of several series, including the prestigious and award-winning Eastman Studies in Music series. Under her direction, the University of Rochester Press was accepted as a full AAUP member in 2011.
Prior to her appointment at Rochester, Guiod was Northeast publisher for Arcadia Publishing and managing editor of the Encyclopedia of New England (Yale University Press, 2005). She holds a master's degree in English literature from the University of New Hampshire and is a graduate of Arizona State University's Scholarly Publishing Program. She is a native of Boston.
With the creation of a new editor in chief position, Syracuse University Press intends to forge new and stronger relationships with SU faculty, programs, departments and schools, thereby strengthening its position as an essential and integral component of University research and scholarship. In reinforcing these campus connections, Guiod will identify new opportunities to demonstrate the mission of university press publishing: disseminating the University's scholarship, as well as research from around the world. She will play a critical role in establishing the press as a leader in the innovative use of new publishing modalities and technologies.