Syracuse Poster Project to celebrate 11th series April 19
The Syracuse Poster Project will celebrate its 11th annual poster series with an opening event Thursday, April 19, at 6 p.m. in the atrium at City Hall Commons, 201 E. Washington St., Syracuse. The Poster Project brings together poets and Syracuse University artists to create an annual series of poetry posters for the poster panels of downtown Syracuse. The project enlivens the downtown, strengthens the city's sense of place and reaches the larger community by selling poster prints, note cards and poetry.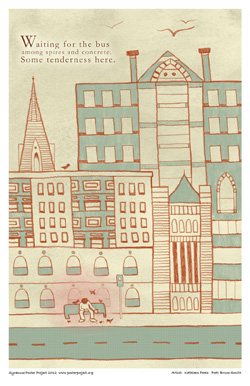 Each year since 2001, the project has produced 16 unique posters. Each poster features an illustrated poem about the downtown, city or nearby countryside.
The 2012 series consists of 14 posters created by a class of advanced illustration students taught by College of Visual and Performing Arts Professor Roger DeMuth, along with two supplemental posters created by professional artists Todd Conover, a fashion design instructor at SU, and Skip Frost, a painting instructor at Onondaga Community College.
The unveiling culminates nearly a year of collaborative work. Over the summer, participating poets write the three-line form of poetry known as haiku. By the September deadline, approximately 120 poets had submitted 188 new poems.
This year's series also includes one special poster created in collaboration with Onondaga Community College to commemorate OCC's 50th anniversary. This poster reversed the typical sequence of haiku first, illustration second. Frost, the painting instructor, created a painting of the campus. The project then invited poets to submit haiku to complement the painting. Representatives of OCC selected the winning haiku from 79 entries.
As each poster series takes shape, themes emerge. This year, the series refers to winter (shoveling, waiting for snow days, longing for the beach), public art (train platform sculptures, the Onondaga Creek serpent, bird houses on Meadowbrook Drive), nature (crows, hawks, swampland) and Syracuse institutions (the Centro bus system, the Little Gem diner, the skate park at Onondaga Lake).
The unveiling will gather the poets and artists, friends of public art, representatives from the project's corporate sponsor, Seneca Federal Savings and Loan Association, and representatives of the following patrons: Anaren, Byrne Dairy, Eric Mower Associates, Geddes Federal Savings and Loan Association, KS&R, King & King, Hueber-Breuer, Solvay Bank and Wegmans. Music will be performed by Better than Bowling, a five-member band.
The Downtown Committee of Syracuse will post the posters shortly after the unveiling. The posters remain on display for a year.
Beyond the poster panels, the project reaches the larger community by selling poster products, including poster prints, note cards and poetry booklets. It also exhibits a complete set of the prints at a different downtown venue each month. Prints can be purchased at Eureka Crafts in Armory Square, at the Copy Centers, 131 S. Salina St., and at the project's on-line store: www.posterproject.org. All proceeds help the project become self-sustaining.
The 2012 poet-artist combinations include:
Scott Austin and Katie Martello
Julia Calagiovanni and Amabel Caba
Rosalyn Carrol and Erica Bortnick
Jennifer Fulco and William M. Burns
Aimee Hillman and Erin Kidd
Tom Huff and Todd Conover
Linda Liddiard and Jacob Walker
Robert Mengert and Andres Sanfeliu
William Padgett and Victoria Taylor
Sara Parrott and Skip Frost
Michele Reed and Anna Rettberg
Renee Romance and Susan Un
Amie St. Amour and Molly Snee
Joan Sauro and Emily Ramon
Bruce Smith and Kathleen Perez
Jane Woodman and Morgan Spicer.