Arts & Culture
'Sweet lovers love the spring' in 'As You Like It'
At the heart of the joyful play "As You Like It" is perhaps Shakespeare's greatest comic heroine, Rosalind. As a woman disguised as a man, she exists not fully as either but in between, where she can relish the privilege of speaking with a man's authority informed by a woman's heart, a combination she needs in guiding the varied denizens of the Forest of Arden in the hey-nonny-no of love. As the great sage writes: "To be in love, and yet to see and feel the absurdity of it, one needs to go to school with Rosalind." Sweet lovers love the spring!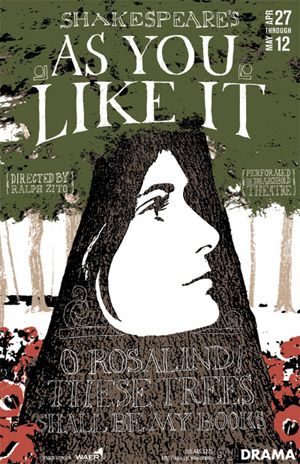 Presented by Syracuse University's Department of Drama in the College of Visual and Performing Arts, and directed by SU Drama chair Ralph Zito, "As You Like It" runs April 27- May 12 in the Archbold Theatre at 820 E. Genesee St. Tickets are $16-18, available at 443-3275 or by visiting http://vpa.syr.edu/drama. SU Drama's season sponsor is WAER 88.3.
For his mainstage directorial debut with SU Drama, Zito chose "As You Like It" because of his affinity for Shakespeare and this comedy in particular.
"As with all of Shakespeare, what continues to excite me and draw me to 'As You Like It' is this incredible investigation into what it means to be a human being," says Zito. "The particular lens of this play, which is the same for all the pants comedies, is when the heroine puts on the boy's clothes and she becomes neither man nor woman. She completely upsets the apple cart for herself and everyone around her."
To highlight the parallels between Rosalind's and Orlando's journeys through the play, Zito has rearranged and intercut the opening scenes in order to start the play with Rosalind and Celia.
"Celia and Rosalind share a kind of sisterly love that they must learn to transpose into romantic love for someone else," notes Zito. "So I like starting with them, starting in that feminine world. It launches us in a different kind of way."
In "As You Like It," characters enter the Forest of Arden, and what they find in the forest depends very much on what they bring with them. As the trappings of civilization are stripped away, self-awareness grows and with it a realization that for many of the characters, there is some mystery to their motivations.
"It is this richness of psychic material concerning family, friendship, maturation, and, of course, love that make this an ideal play for student actors developing their craft," says Zito.
For the look and feel of this production, Zito took a cue from costume designer Maria Marrero and scenic designer Alex Koziara, who were inspired by 18th-century painters Antoine Watteau and Jean-Honore Fragonard after a visit to London's National Gallery.
"I told them to run with it," Zito says. "There's this striking juxtaposition of the natural and the man-made. In the forest we may have remnants of objects—statues and staircases—that the action can swirl around."
The resulting scenic "playground," complete with a turntable that spans the depth of the stage, provides an exciting and interesting backdrop for the characters' journeys of self-discovery.