SU Women's Choir to present spring concert April 19
The Syracuse University Women's Choir, under the direction of Barbara M. Tagg, instructor of music in the Rose, Jules R. and Stanford S. Setnor School of Music in Syracuse University's College of Visual and Performing Arts (VPA), will present its end-of-semester spring concert on Thursday, April 19, at 8 p.m. in the Rose and Jules R. Setnor Auditorium, Crouse College. The concert is free and open to the public. Free parking is available in the Irving Garage; parking for patrons with disabilities is available in the Q1 lot. Patrons should mention that they are attending the concert.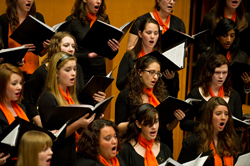 The choir's repertoire will include "Domine Deus" by J. S. Bach, featuring Edgar Tumajian, violin; "Lux Aeterna" by Michelle Roueché; Eric Whitacre's "She Weeps Over Rahoun," conducted by graduate student Lauren Estes and featuring Philomena Duffy, English horn; "Amazing Grace," arranged by Francisco Nunez; and Paul Caldwell and Sean Ivory's "Lay Earth's Burden Down" with Jared Bloch, percussion.
The featured work of the concert will be David Brunner's "All I Was Doing Was Breathing" with guest artist and Setnor voice instructor Janet Brown, soprano, and University student Mina Raj, dancer. Additional instrumentalists for the presentation will be William Anderson, Cristiana Marks, Emma Logan and Jared Bloch, percussion.
The Women's Choir is made up of both music majors from the Setnor School of Music as well as students from a variety of other majors and schools across the University and SUNY College of Environmental Science and Forestry.
For more information, contact Tagg at 315-443-5750 or btagg@syr.edu.