SU Sustainability Division, Bird Library collaborate on new e-waste program
As a part of the Syracuse University Sustainability Division's recycling campaign, a new e-waste recycling program was launched for students on campus. Through this Sustainability Division and Bird Library joint venture, collection bins are located in the library's first floor recycling room for students to drop-off their e-waste.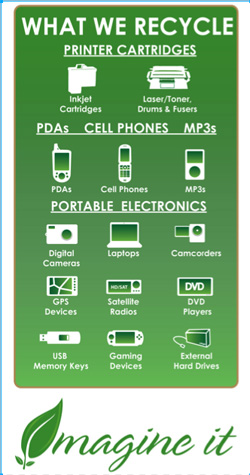 "The purpose of this program is to provide students an outlet to dispose of their non-working electronic items," says Melissa Cadwell, marketing manager for the Sustainability Division. "There was no e-waste program on campus, which meant students had to find places off campus to recycle them. Due to the inconvenience of trying to find an outlet, some students would simply throw them away, which is not good for the environment."
Most e-waste contains a variety of toxic chemicals that are damaging to the environment and harmful to the human body. However, it also contains valuable materials, including precious metals, plastics and glass, which can be reused.
The program offers students a convenient location to recycle small, non-working electronic items, including cell phones, smart phones, PDAs, e-books, cameras and tablets. Cords, batteries, cases, headphones, charging ports and anything else that goes with electronic devices are also accepted. The items collected from students will be picked up by Imagine It, a recycling company based in Rochester, N.Y. For working items that are still useable, the Sustainability Division suggests students sell or donate them, such as donating cell phones to the Advocacy Center on campus. 
"The recycling campaign is meant to engage students in the recycling efforts on campus and to provide the resources needed to maximize the recycling rate," says Rebecca Osborne, Sustainability Division intern. "The e-waste program will provide an easy and convenient way to dispose of e-waste that a student may have lying around."
Since 1990, SU has had recycling bins in every building for collection of paper, cardboard, glass, plastic and metal recyclables. SU's recycling rate is approximately 48 percent, a rate very close to the national average. By providing an e-waste recycling program that targets students, SU is taking another step toward a more sustainable campus.
Students who wish to become involved with the Sustainability Division's recycling campaign or other campus sustainability issues should contact either Melissa Cadwell at macadwel@syr.edu or Brooke Wears at bkmorley@syr.edu. For more information about recycling and campus sustainability, visit the SU Sustainability website, follow @SustainableSU on Twitter, and check out the Syracuse University Sustainability Facebook page.