Students will share their ideas on 'Energy Policy for the Future' at SU Showcase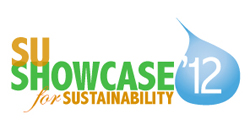 Four Syracuse University students will share their ideas on "Energy Policy for the Future" during SU Showcase on Wednesday, April 18, in Goldstein Auditorium in the Schine Student Center. The panel discussion will begin at 2:15 p.m. and will be moderated by James Steinberg, dean of the Maxwell School of Citizenship and Public Affairs.
The panelists include:
David Frazier of Albany, N.Y., who is currently completing at master's of public administration (MPA) degree in the Maxwell School. He will speak on the use of social impact bonds to encourage private investment in climate change mitigation.
Bridget Fahey of Denver, Colo., a doctoral student in political science in the Maxwell School. Fahey will talk about political communication at the intersection of energy and climate change—the importance of how energy and climate change are discussed in political settings, considering the impacts of certain word choices, framing of the issues and politicization/ polarization of these concepts.
Natalie Teale of Pompey, N.Y., a senior double-major in geography and earth science in The College of Arts and Sciences with a minor in environment and society. She will speak on the potential for algae-based biodiesel in southern California. Her focus has been on using a technique that would improve water quality and produce biomass that can be used in the production of biofuel.
Daniel Entrup of Wayland, Mass., a senior finance major in the Martin J. Whitman School of Management. He will speak in green computing, using the IBM Green Data Center on South Campus as an example, to give broader lessens on 'recipes' for sustainability.
SU Showcase is a day-long event to bring attention to sustainability and the green economy. A full schedule of events can be found at http://sushowcase.syr.edu/Schedule.html.