Arts & Culture
SU Drama announces 2012-2013 season
The Department of Drama in the College of Visual and Performing Arts has announced its 2012-2013 season. Offerings will include Stephen Sondheim's legendary musical "Merrily We Roll Along"; the passionate Jacobean drama "'Tis Pity She's a Whore"; the comic "Top Girls," set in the early days of Margaret Thatcher's England; magic and romance in "A Midsummer Night's Dream" (a co-production with Syracuse Stage); and the critically acclaimed musical "Violet," with a score by Jeanine Tesori ("Caroline, or Change" and "Thoroughly Modern Millie"). A second co-production with Syracuse Stage, "White Christmas," will not be part of the subscription season, though tickets will be available at a discount to subscribers.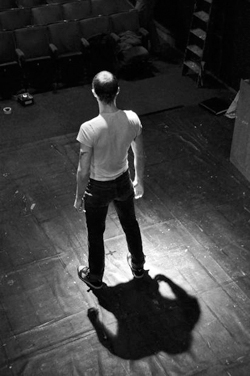 SU Drama Subscriptions range $85-$95 and are now available by calling the Box Office at 315-443-3275 or in person at 820 E. Genesee St., Monday-Friday, 10 a.m.-5 p.m.
"One of our goals in putting together SU Drama's 2012-2013 season was to provide opportunities for student actors, designers and stage managers to hone their skills by working on plays that represent the very best of their genres," says Timothy Bond, producing artistic director of SU Drama. "Sondheim, Ford, Shakespeare, Churchill, Tesori … these are world-class playwrights and composers, and their work requires a wide range of theater artistry that will prepare our students well for whatever artistic challenges they may encounter upon graduating from our program."
Guiding the students' work will be directors both familiar and new to Syracuse audiences.
"The success of the Department of Drama season relies heavily on the talent and energy of our directors, who, through the process of creating a production, become collaborative artists and mentors for our students," says Ralph Zito, chair of SU Drama. "We are excited to present the work of newer faculty directors Brian Cimmet, Celia Madeoy and Tim Davis-Reed, as well as established faculty member Rodney Hudson, who directed 'The Cradle Will Rock' this past fall."
Rounding out the diverse group of directors is Paul Barnes ("White Christmas," Syracuse Stage's "The Miracle Worker") and Bill Fennelly (who served as resident director for the national tour of Disney's "The Lion King").
As in years past, multiple theater venues will be used, allowing opportunities for students to perform and design in different spaces. "Merrily We Roll Along," "Top Girls" and "Violet" will be performed in the Storch Theatre with endstage seating. "'Tis Pity She's a Whore" will be performed in the Storch Theatre with three-quarter arena seating. "A Midsummer Night's Dream" and "White Christmas" will be performed in the Archbold Theatre.