Campus & Community
Students, organizations recognized at 44 Stars event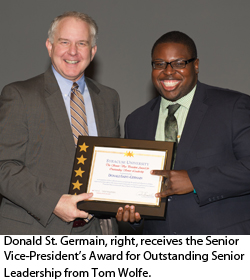 The Office of Student Activities, within the Division of Student Affairs, honored individual students and recognized student organizations for their hard work and dedication at the 44 Stars of Excellence Awards and Gala Celebration on April 17. Sponsored by Macy's and Bloomingdales, the event was hosted by student leaders Victor Roberts and Erin Carhart, and included performances by First Year Players, Black Reign and DanceWorks.
The award recipients were as follows:
The Mary Ann Shaw Center for Public and Community Service Award
Individual: Marc Lomasky
Organization: Habitat for Humanity
The Macy's Rising Star Award
Individual: PJ Alampi
Organization: Chi Upsilon Sigma National Latin Sorority, Inc.
The Student Association SU Spirit Award
Individual: Ben Glidden
Organization: Traditions Commission
The Associate VP Award for Positive Advocacy
Individuals: Andre Sadler, Donald Saint-Germain and Tiarra Currie
Organizations: RAICES, The Out Crowd and SIFE
The Slutzker Center Award for Cultural Diversity
Individual: David Pittman Tore
Organization: Japanese Student Association
The Student Activities "Live It" Award for Excellence in Leadership
Individuals: Erin Carhart, Nick Deyo, Peter D. Rosado and Ronny Henry
The Student Activities Award for Creativity and Ingenuity
Individual: Binta Sidi Jammeh
The Award for Excellence by an Organization President
Individual: Rebecca Toback, Andre Sadler and Nick Haas
The Career Services Emerging Leaders Award
Individual: Jordan Weaver
The Class of 2012 Citizenship Award
Individual: Alyssa Hillman
The Senior Vice President Award for Outstanding Senior Leadership
Individual: Allie Forbes and Donald Saint-Germain
The Student Leadership Institute Award
Individual: Mikaela Ost
The Award for Outstanding Philanthropy Programming
Organization: Phi Beta Sigma Fraternity, Inc.
The Student Centers and Programming Services Award for Excellence in Programming
Organizations: Alpha Phi Alpha Fraternity, Inc.; Phi Beta Sigma Fraternity, Inc., and Omega Phi Beta Sorority, Inc.
The Division of Student Affairs Award for Collaboration
Organizations: Mu Sigma Upsilon Sorority, Inc., and Phi Beta Sigma Fraternity, Inc.
The Public Affairs Award for the Most Outstanding Media Production or Publication
JERK Magazine
The Musical Performing Group of the Year Award
Black Reign Step Team
The Bloomingdale's Entertainers of the Year Award
DanceWorks