Students launch buy-local program during run-up to SU Showcase
Syracuse University students in The College of Arts and Sciences' Soling 300: "Sustainable SU" class are running a buy-local initiative they've created to help support a more sustainable Syracuse green economy. The Stamp-Pede Local Businesses program offers prizes for shopping locally and will run until April 18 as part of the upcoming SU Showcase for Sustainability 2012 event.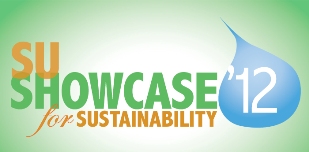 Nearly a dozen local establishments, including J. Michael Shoes, Boba Suite Tea House, Syracuse Real Food Coop and Eureka Crafts, have signed on as Stamp-Pede partners.
SU and SUNY College of Environmental Science and Forestry students may participate by picking up a Stamp-Pede map from the Schine Student Center Information Desk, participating businesses and via download by clicking this link (PDF). The Soling 300 students, along with green Otto—sporting a slick new green outfit to highlight his eco-friendly nature—will also be distributing maps in the Schine Atrium on April 12 from 9:30-10:50 a.m.
The Stamp-Pede map charts the locations of participating businesses where students can shop and present their maps to be stamped during checkout. Then, at SU Showcase on Wednesday, April 18, students with stamped maps can turn them in and win prizes.
Green Otto will make another appearance during SU Showcase from 3:30-4:30 p.m. to handout Stamp-Pede prizes and show his sustainable SU pride.
"The entire class is really excited to have green Otto on board to help launch their sustainable buy-local program," says Rachel May, Soling 300 professor and SU's coordinator of sustainability education. "Be sure to stop by Schine on April 12 and be one of the first to witness SU's new green mascot. Then come back on April 18 for SU Showcase to turn in your Stamp-Pede maps for some great prizes, and check out all of the exciting events scheduled throughout the day." 

For a complete list of participating businesses and to download your map, visit http://sushowcase.syr.edu/News/Stamp-Pede.html. To learn more about the Stamp-Pede Local Businesses program, contact Rachel May at 315-443-9726 or sumay@syr.edu.
SU Showcase is a campuswide, Earth Week celebration of students' sustainability work and the future of a green economy across the energy, entertainment and plastics industries. The event—geared toward all SU and SUNY College of Environmental Science and Forestry students—is also open to the public and will be held all day on Wednesday, April 18, in SU's Schine Student Center. Check out the complete event schedule at http://sushowcase.syr.edu/Schedule.html, and follow SU Showcase on Facebook and Twitter #GreenSU for the latest updates.