Student-run businesses win $50,000 at 2012 Panasci Business Plan Competition
The Martin J. Whitman School of Management at Syracuse University has announced the winners of its $50,000 Panasci Business Plan Competition, hosted annually by the Falcone Center for Entrepreneurship and the Department of Entrepreneurship and Emerging Enterprises (EEE). The competition is made possible by long-time Whitman School supporter the late Henry A. Panasci, founder of Fay's Drugs.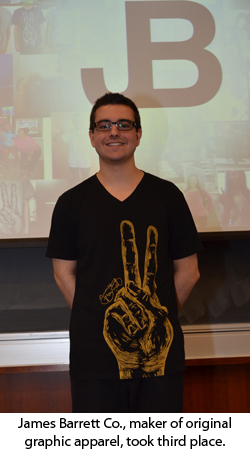 Sixteen teams comprised of 38 students, representing majors and minors from across the SU campus, participated in the semifinals Friday, April 15 and presented their business plans to a panel of judges that included entrepreneurs from the Syracuse area, previous competition participants and Whitman School alumni. Teams were judged on creativity, innovation, feasibility and comprehensiveness.
The top five teams competed in the finals Saturday, April 14. The top three, whose new venture ideas represent the best potential for growth and attracting outside financing, were selected by judges after reading their business plans and hearing team pitches. Each earned a portion of the prize money, which totaled $50,000.
"This year we had more than 50 participants in the Panasci Business Plan Competition and the quality of the plans was the best so far. The judges in the semi-finals had a hard time picking the final five teams," notes Panasci Business Plan lab professor Mirza Tihic. "The top five teams were exceptional, innovative and very passionate about their entrepreneurial ventures."
The 2012 Panasci Business Plan Competition winners include:
First Place ($25,000): Fiesta Frog
Team members: Gerald Decelian, Benjamin Joseph, Dylan Hsu, Kyle McShane
Fiesta Frog is a website that automatically updates users about what is going on in their area and allows promoters to easily and effectively advertise their events. The website launched in Syracuse in mid-October 2011 and currently has more than 4,000 users in that market. It is expanding to other college towns and metropolitan areas.
Second Place ($10,000):
Team members: Camille Malkiewicz, Marissa Rehkopf, Troy Zellers, Marina Zarya
Craftistas eliminates the tedious process of do-it-yourself crafting by offering pre-assembled craft kits through a monthly subscription website, www.craftistaskits.com. Kits are purchased as a one-month, three-month, six-month or annual subscription where members receive a packaged Craftistas craft kit each month. Craftistas web presence exists not only as an e-commerce site, but also as a crafting community that collaborates to deliver desired products. As a result, Craftistas leverages the website as an essential component of their philosophy of building a community and actively listening to what inspires them. With members' help, Craftistas curates the web's most desirable crafts.
Third Place ($5,000): James Barrett Co.
Team member: James Barrett
James Barrett Co. designs, produces and retails original graphic apparel with a positive message. Since April 2010, James Barrett Co. has sold more than 3,500 products to customers from more than 31 states. The company is releasing a new collection on April 20. The Peace Pinnies are sold in J. Michael on Marshall Street in Syracuse.
Fetner Prize for Sustainable Enterprise ($5,000): WaterPort
Team members: Chris Grant, Victoria Di Napoli, William Craine, Hunt Lau
Worldwide there are more than 1.1 billion people who struggle through each day without access to clean drinking water, and 3,900 children who die each day from water-borne illnesses. There is clearly a large demand for clean drinking water on this planet. Unfortunately, the people who are most affected by this water dilemma live in impoverished villages with no electrical supply or reliable infrastructure. This makes it impossible for rainwater harvesting and filtration systems to be utilized. WaterPort has created a portable and self-sustained rainwater harvesting and filtration system, which makes this process possible virtually anywhere on earth. The system is portable in the sense that it is completely detached from any form of infrastructure or building and its filters are self-sustained through the use of solar power energy. With every inch of rain that falls over each system, 120 gallons of purified water can be produced that would have otherwise been wasted. WaterPort's product has the potential to save the lives of millions and its goal is to bring this technology to as many impoverished villages as possible.
Holtz Prize for Global Enterprise ($5,000): WaterPort