Campus & Community
Student entrepreneur hosts trunk show at J. Michael, launches new collection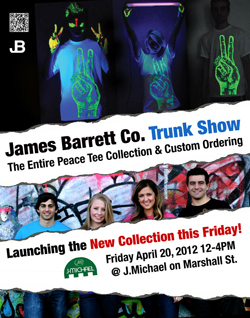 James Barrett Co., original graphic apparel with a positive message, is owned and operated by Syracuse University student James Barrett '13 BA. Barrett's signature item is the Peace Tee which features a bold and graphic hand-drawn peace sign on the front of the shirt with the company stamp on the back. Most recently, the company has sold more than 300 Peace Pinnies at local retailer J. Michael on Marshall Street since December 2011.
Barrett will host his second trunk show at J. Michael on Friday, April 20, from noon-4 p.m. Apparel items will be available in custom colors and the event features the entire Peace Tee collection. Other items present include the hoodless and zip hoodie, Peace Sleeves, Peace-n-Glow glow in the dark shirts and also PeaceU tees in school colors.
In addition to apparel in the Peace collection, Barrett will be launching his new collection at the event and taking pre-orders. The new collection is a brand new design in a social direction and will be unveiled this Friday through Barrett's business Facebook Page.
"I am excited to have our second trunk show since our first one at J. Michael was such a success in March," notes designer James Barrett. "The sale will feature Peace-n-Glow Tees, a huge selection of the Peace Pinnies, an inventory sale, tanks and custom color ordering. The Peace-n-Glow tees and tanks are perfect for Block Party next week!"
Since April 2010, the company has sold more than 3,500 products in 31 states across the U.S. and has more than 3,100 fans on Facebook. Recently, James Barrett Co. placed third at the 2012 Panasci Business Plan Competition hosted by the Whitman School. Barrett was named Student Entrepreneur of the Year at the annual Entrepreneurship Awards Ceremony and received the Creative Excellence award for his business plan during the 2011 Panasci Competition.
To learn more about James Barrett Co. or purchase merchandise, visit http://www.jamesbarrettco.com/ or 'like' the Facebook fan page at http://facebook.com/jamesbarrettco.