Exhibition to feature photographic survey of Syracuse public sculpture, work of artist in residence
Syracuse's public sculpture, and the current work of Brendan Rose, the city's public artist in residence, will be the subject of a new photographic survey on view April 19-May 12 at the Syracuse Public Artist in Residence (SPAR) Space located in the State Tower Building, 109 S. Warren St., Syracuse.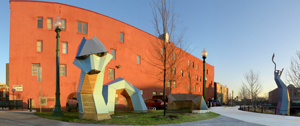 "Hidden in Plain Site: Urban Sculpture and the Work of the Syracuse Public Artist in Residence" was researched, organized, designed and installed by first-year graduate museum studies students in Syracuse University's College of Visual and Performing Arts (VPA). An opening reception will be held Thursday, April 19, from 5-7 p.m. The exhibition and reception are free and open to the public. Regular SPAR Space hours are Friday-Sunday, noon-6 p.m.
Related programming for "Hidden in Plain Site" includes the following events, which are also free and open to the public:
Panel discussion, Saturday, April 21, 1 p.m. at The Warehouse Auditorium, 350 W. Fayette St., Syracuse. The panel will feature artist Anne Cofer, instructor of fiber and textile arts at VPA; Robert Doucette, developer, Armory Development and Management Inc.; Emanuel Carter, associate professor of planning and urban design, SUNY College of Environmental Science and Forestry; and artist Stasya Erikson, program coordinator, Northside Urban Partnership, and co-chair, 40 Below Public Arts Task Force. Heidi Holtz, director of research and projects at the Gifford Foundation, will moderate the discussion.
Youth activity day, Saturday, April 28, 11 a.m.-4 p.m. at the SPAR Space.
Lecture, Saturday, May 5, 1 p.m. at the Tech Garden, Verizon Technology Theater, 235 Harrison St., Syracuse. Kevin Kane, development manager of the Widewaters Group Inc., will lecture on his work, the Onondaga County Korea-Vietnam Veterans Memorial.
For more information about the exhibition or the related programming, contact Bradley Hudson at bjhudson@syr.edu or Brendan Rose at rose.brendan@gmail.com.
The SPAR initiative is a partnership among the Syracuse Connective Corridor, the Downtown Committee and the 40 Below Public Arts Task Force. The SPAR changes each year and seeks to engage the public in a collaborative process to enliven Syracuse with a variety of art forms. More information can be found at www.installsyracuse.org.