Senior fashion designers to present annual fashion show April 26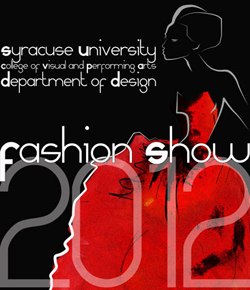 Senior fashion design students in Syracuse University's College of Visual and Performing Arts (VPA) will present their collections in the annual Fashion Show on Thursday, April 26, at 12:30 p.m. and 7:30 p.m. The shows will take place in Goldstein Auditorium in the Hildegarde and J. Myer Schine Student Center. Parking is available in SU pay lots.
Tickets for the matinee are $6 for all seating. Tickets for the evening show are $30 for reserved seating; $20 for balcony seating; and $15 for balcony seating for senior citizens and students with valid I.D. Tickets can be purchased at the Schine Box Office, 315-443-4517.
Focused on design and creative development, VPA's fashion design program, which is based in the Department of Design, offers an intellectually stimulating environment with a global perspective. This, coupled with practical and theoretical skills, technology and the study of the cultural context in which fashion exists, provides a broad-based education in fashion.
For more information, contact the fashion design program office at 315-443-4644.