Secretary of State Clinton to visit Maxwell School, speak at Hendricks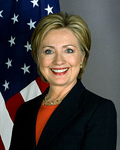 U.S. Secretary of State Hillary Rodham Clinton will visit the Maxwell School and the Syracuse University campus on Monday, April 23, to meet with students and then engage in a policy conversation entitled "America and the World" with Maxwell School Dean James Steinberg. Steinberg served as Clinton's Deputy Secretary of State until joining Maxwell as dean last summer.
The event at Hendricks Chapel will take place at noon and is free and open to the public. Seating is first come, first served. The doors will open at 9:45 a.m., and guests must be seated by 11:15. All guests are subject to security screening. Backpacks and large bags are discouraged and will be subject to additional security screening.
The secretary's talk with Dean Steinberg will be streamed live at www.maxwell.syr.edu.