Room to Read founder John Wood to deliver inaugural Phanstiel Lecture
John Wood, founder and board co-chair of Room to Read, will deliver the inaugural Phanstiel Lecture on Tuesday, April 10 at 4 p.m. in Syracuse University's Hendricks Chapel. The lecture is part of SU's Philanthropy Week, which raises awareness of the importance of giving and recognizes members of the SU family who have supported the University through philanthropy.
The event is free and open to the public.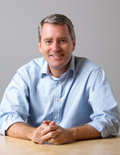 Wood left his executive career track at Microsoft at age 35 to found Room to Read, which was founded on the principle that "World Change Starts with Educated Children®" and seeks to transform the lives of millions of children in developing countries by focusing on literacy and gender equality in education.
Since 2000, Room to Read has impacted the lives of more than 5 million children by providing increased access to high-quality educational opportunities through its network of libraries and schools, local language children's books and girls' education program. Room to Read is changing children's lives in Bangladesh, Cambodia, India, Laos, Nepal, South Africa, Sri Lanka, Vietnam and Zambia and aims to reach 10 million children by 2015.
"Our inaugural Phanstiel Lecture will elevate the conversation of philanthropy to a campuswide level," says David Murray, executive director of special initiatives and campaigns in the Office of Development. "John Wood's remarkable story will undoubtedly inspire the SU community to give of themselves to make a positive change in the community and world around us."
Wood's award-winning memoir, "Leaving Microsoft to Change the World: An Entrepreneur's Odyssey to Educate the World's Children" (Harper Collins, 2006) tells of how he raised more than $80 million from a "standing start" to develop one of the fastest growing nonprofits in history. The book was selected by Amazon.com as one of the Top Ten Business Narratives of 2006 and voted a top 10 nonfiction title by Hudson Booksellers.
Wood has been a three-time speaker at the Clinton Global Initiative and a five-time winner of the Fast Company Magazine and Monitor Group Social Capitalist Award. He has been honored by Time Magazine's "Asian Heroes Award," recognizing 20 people under 40 who have done something "brave, bold and remarkable." He was also selected as a Young Global Leader by the World Economic Forum and is a Henry Crown Fellow at the Aspen Institute. The Public Broadcasting Corporation (PBS) named him as one of "America's Great Leaders" and he was selected by Barron's as one of the "25 Best Givers" in 2009 and 2010, ranking 11th and ninth, respectively.
The overarching goal of Philanthropy Week is to educate students, alumni, the campus community and the broader community about the benefits of philanthropy—the importance of volunteerism, charitable giving and other efforts to better our world, and especially how philanthropy and the generosity of donors affects all of SU.
The week occurs approximately 85 percent of the way through the academic year to symbolize the fact that tuition and fees paid by students cover approximately 85 percent of the cost of running the University each year. The remainder—nearly $150 million—comes from gifts, grants and other sources.