Team up for Relay for Life April 14-15 at Carrier Dome
Syracuse University and the American Cancer Society are teaming up once again to fight cancer with the 2012 SU/ESF Relay for Life, from 6 p.m.-6 a.m. Saturday, April 14, into Sunday, April 15, at the Carrier Dome. The Relay for Life committee has been working since August to make this relay the largest yet.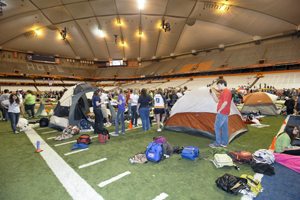 The American Cancer Society Relay for Life events are held in communities around the world to celebrate the lives of people who have battled cancer, remember loved ones lost and raise funding to fight the disease. At the relay, teams of people camp out at a local school, park or fairground and take turns walking or running around a track or path. Each team is asked to have a representative on the track at all times during the event. Because cancer never sleeps, relays are overnight events as long as 24 hours.
Friends, classmates, sports teams, clubs, Greek organizations, residence halls, faculty and staff at SU can help in the fight by forming their own teams, which raise funds online leading up to the event. In 2011, more than 2,500 participants raised a record $175,000. This year's teams hope to break that record. The event has grown so large in the last five years that it was moved from Manley Field House to the Carrier Dome. To make a donation, join a team, or get more information, visit http://syracuserelay.wordpress.com/.
Alpha Phi Omega Co-Ed National Service Fraternity (APO) initially brought the relay to SU/ESF, honoring a graduating brother who was a cancer survivor. APO is the driving force for the success of the event. The planning committee consists mainly of students, with APO alumni returning each year to participate in the relay.
The 2012 SU/ESF Relay is under the direction of student team co-chairs Julie Deutsch, Katie Bresnahan and Laurie Tewksbury.
Tewksbury, an advertising and marketing dual major, has been involved in Relay for Life since she was a freshman. "This is my fourth year relaying in the Dome and each year it becomes closer to my heart," she says. "After losing a friend to cancer, then learning about numerous family friends battling the disease, raising money to find a cure has never been more important to me."
For co-chair Deutsch, a junior information management and technology major, participation in the relay is also a way to honor those lost to cancer, and those fighting it. "Cancer isn't something that's just going to disappear without our help. Relay for Life gives me the opportunity to celebrate, remember and fight back for those who have been affected by cancer. I have lost my grandpa, a friend and several others to cancer. But I have also witnessed people beating cancer. For this reason, I relay. I want to remember those who have lost their lives to cancer and honor those who have beaten it."
Lynne Mowers, secretary to the director of SU Food Services, secures food donations for the relay and assists as a member of the planning committee. She says she hasn't missed a relay since the event started on campus nearly a decade ago. The relay is personal for Mowers, whose husband is the only person in his immediate family who has not been diagnosed or lost a battle with cancer.
For more information, or to sign up and participate in the 2012 Relay for Life of Syracuse University, log onto http://main.acsevents.org/site/TR?pg=entry&fr_id=40253 or contact info@syracuserelay.org.