Recipients of Imagining America grants announced
Seven faculty members have received grants from Imagining America: Artists and Scholars in Public Life  to develop courses and projects that encourage significant community-campus collaboration around a relevant issue and further disciplinary and public knowledge. The chosen courses and projects also demonstrate the likelihood of becoming sustainable and incorporate the humanities, arts or design.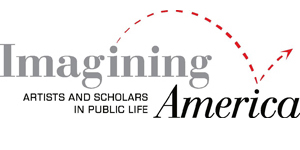 The courses will take place during fall 2012 and spring 2013, and include: 
Jazz and Human Rights as Cultural Democracy
Kwame Dixon, assistant professor of African American studies, and Paul Steinbeck, assistant professor of musicology and African American studies, College of Arts and Sciences
This project consists of a thematic seminar, live jazz concert and two courses,  "Civil Rights in the Age of Jazz," taught by Dixon, and "Masters of American Black Music," taught by Steinbeck. The project's goal is to contextualize the history of jazz music and musicians as part of the overall struggle for human rights and democracy in the United States and across the globe. Students will examine how jazz musicians have theorized jazz and its connection to social context and place, and focus on the active voice of jazz musicians and their musical narratives that focus on issues of justice, democracy and human rights. Students will read about the history of U.S. civil rights and Afro-social movements through the lens of jazz. Guest speakers will include activists, scholars and musicians who will share their experiences of how jazz music and musicians influenced social movements during the 1950s and '60s. There will be at least one jazz concert open to the public at the Community Folk Art Center. 
The Near West Side–A Fresh Set of Eyes
Mary Kish, MSW, internship coordinator, Department of Child and Family Studies, David B. Falk College of Sport and Human Dynamics
This project will include documenting perspectives of young people in the Near West Side and sparking conversation among children, students and those working on revitalization efforts. As the Near West Side experiences rejuvenation and renewal, students from the Child and Family Study Department will help children who reside in the neighborhood to create images that resonate and reveal what it means to grow up in the Near West Side, what is important in their lives and how they experience changes in the neighborhood. These images will capture the sights and stories of the young residents and reflect their identification of place in this dynamic urban setting. The SU students will receive independent study credit for their work. 
Library and Information Services to Students with Disabilities
Renee Franklin, assistant professor, School of Information Studies
This course will provide strategies to enhance the efforts of school librarians to develop programs and services, provide adequate facilities and select appropriate resources and technologies to meet the needs of K-12 students with disabilities. The course will augment student education by incorporating experiential learning that involves teams of SU students collaborating virtually with school librarians, classroom teachers and classes of students with disabilities from six Syracuse city schools. The collaborations will result in the K-12 students writing, illustrating and publishing a class book and hosting a Web-based book release party. Students from any major, including those working toward school library certification, are invited to enroll. 
Upstate Modern: Housing
Jonathan Massey, associate professor, School of Architecture
 This course will engage students in the current national conversation sparked by the foreclosure crisis that raises new and important questions about the history of housing and public policy. Examining housing in the United States from the New Deal to the Clinton presidency through readings and discussions, students will learn about housing as a site of contestation over land, money and power. Workshops with city residents will teach students how to generate knowledge by engaging community members in a reciprocal dialogue to guide and share research. By creating a community history of a Syracuse housing project, the course will contribute to academic knowledge, public history and policy debates. 
Buscando América: Salsa and the Latin/American City
Sydney Hutchinson, assistant professor of ethnomusicology, and Luis Castañeda, assistant professor, art and music histories, College of Arts and Sciences
 This course will explore salsa, a popular dance and musical form born out of the context of urban displacement and alienation, which has been defined by changes in the modern Latin American city, including its extensions into the barrios of Latino immigrants around the world. How can the interrelation between musical sound, dance movements and urban space be better understood, so as to gain a fuller understanding of salsa's territorial implications? Students in the seminar will combine a close analysis of salsa music and dance with readings in urban, architectural and spatial theory; participate in artistic workshops and conversations on pressing local issues with members of the Latino community in Syracuse; and take a weekend trip to salsa sites in New York City. Students will also undertake community-based research projects that confront the multiple variations of salsa music and dance with other cultural forms (visual, spatial or literary) from the Americas. 
This is the fifth round of Imagining America Grants since 2008; 28 courses and projects have been supported in total. For more information about this program, visit http://imaginingamerica.org/consortium/ia-at-su/curriculum-development/.