Posse students welcomed during Spring Reception
From April 16-18, Syracuse University hosted 33 admitted students from Atlanta, Miami and Los Angeles for the first ever Posse Spring Reception. Accompanied by directors from each city's program, the inaugural cadres traveled to SU for an introduction to the campus, their admitting schools or colleges and each other.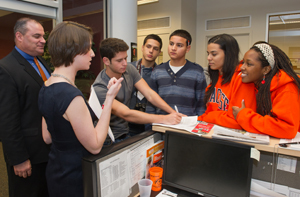 The Posse Scholars will attend SU through the Posse Foundation's prestigious leadership scholarship program.  The University selected the students from a highly competitive pool of applicants based on their academic achievements and demonstrated leadership qualities and initiatives. In addition to attending general Spring Reception events, the scholars dined with their faculty mentors, Vice Chancellor and Provost Eric Spina and college deans; observed a class; met with academic support services; and received a backstage tour of the Carrier Dome.  In addition, current SU students pitched in to help Posse students understand the vast opportunities offered by SU, including research, internships, co-curricular activities and study abroad. 
"Our participation in the Posse partnership underscores the University's commitment to access for accomplished students," says SU Vice President for Enrollment Management Donald Saleh. "These tremendously gifted and socially committed students will enrich the learning environment for all students, and we fully expect them to rise as campus and community leaders." 
"Posse is extremely proud to be partnering with Syracuse University," says Posse president and founder Deborah Bial.  "In signing on to recruit scholars from three Posse chapters, Chancellor Nancy Cantor and her team are demonstrating extraordinary commitment to college access and the success of outstanding young people across the country.  We look forward to a thriving partnership that will create life-changing educational experiences for scholars."
The Posse Foundation is one of the most comprehensive and renowned college access and youth leadership development programs in the nation. As the United States becomes an increasingly multicultural society, the foundation and its university partners work to ensure that the leaders reflect the country's rich demographic mix. The partnership is rooted in the belief that a small, diverse group of talented students—a posse—carefully selected and trained, can serve as a catalyst for increased individual and community development. Posse scholars head campus organizations, encourage dialogue and programs that foster an inclusive campus environment, and are academically successful.