Members of the Student Philanthropy Council gear up to spread the word
Members of the Student Philanthropy Council (SPC) are getting ready to host Philanthropy Week, April 9-13. Philanthropy Week was created to raise awareness about the generous donations of time and money given by alumni and friends of Syracuse University that help students attend SU.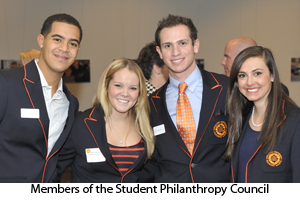 "I want to give back to SU just as much, and hopefully more, than it has given to me," says Alex Klaris, a junior studying public relations and one of 15 students on the SPC.
Candace Pugh, an SPC member and public relations junior, believes spreading the word about 'giving back' is critical in continuing SU's tradition of excellence. "As a student who receives scholarship and grant money from the University, I realize I would not be here if it weren't for the generosity of those who came before me," says Pugh. "My involvement with SPC is just one small way for me to express my gratitude."
The SPC, created in 2010, will host a number of events taking place across campus during Philanthropy Week. SPC members are student ambassadors from various academic majors and class years who share a common commitment of giving back and supporting SU through building a culture of philanthropy on campus among their fellow students.
Chelsea Damberg, a senior broadcast journalism student, joined the SPC to work alongside other student leaders passionate about paying it forward. "I am so empowered by what we do as a council," says Damberg. "I hope with our awareness we can create a culture of giving among students."
Support from Howie Phanstiel '70, G'71, and his wife, Louise, played a large role in the creation of Philanthropy Week. Howie Phanstiel, a graduate of The College of Arts and Sciences and the Maxwell School of Citizenship and Public Affairs, and Louise gave $20 million to create the Louise and Howard Phanstiel Scholars program, $5 million to the Maxwell School for the creation of the Phanstiel Chair in Strategic Management and Leadership and another $1.2 million to help finance the Carmelo K. Anthony Basketball Center. 
"Throughout my time here, I've seen the love that the students have for the school," says Dylan Lustig, an international relations sophomore and SPC member. "There is not a culture of giving here yet like at many other schools.  I want to help create and foster that sense of giving."
A master's student in biomedical engineering, Luis Romo, '10, G '12  is honored he was asked to be a member of the SPC. "Giving back has been a way of life for me, reinforced by my family since I was a child," Romo says. "I am a strong believer of making the world go round and you can't receive without giving back."
For more information about Philanthropy Week, visit http://pweek.syr.edu/.
Philanthropy Week is sponsored by Division of Advancement and External Affairs. For more information about Philanthropy Week, or to find out how you can donate, contact development associate Helene Kahn at 443-1120 or hmkahn@syr.edu.