STEM
Paving the way: Raytheon's Jennifer Zhao '09 to speak
Career Services, within the Division of Student Affairs, and the Office of Alumni Relations are bringing Jennifer Zhao '09, systems engineer for Raytheon Co., to campus on Monday, April 23, as part of the Alumni Speaker Series. Zhao's visit coincides with SU's celebration of Asian Pacific American Heritage Month and is co-sponsored by the L.C. Smith College of Engineering and Computer Science and the Office of Multicultural Affairs.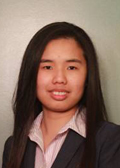 Zhao will give a presentation about her career at 7 p.m. in 107 Hall of Languages. The event is free and open to the public. Light refreshments will be served.
Zhao graduated from the College of Arts & Sciences and the L.C. Smith College of Engineering and Computer Science with a B.A. in policy studies and a B.S. in mechanical engineering. While at SU, she was a member of University 100, a Wellslink peer leader, president of Asian Students in America, a member of Pi Tau Sigma (mechanical engineering honor society) and a sister of Alpha Omega Epsilon (engineering sorority). She received the Women of Distinction award in 2008 and the La Fuerza Community Enhancement Award in 2009. Zhao also took part in the Winston Fisher Program, GE Leadership at Work Series and the Conference of Asian Pacific American Leadership program during her four years at SU.
As a systems engineer, Zhao manages life cycle sustainability, reliability and maintainability of the products that Raytheon provides to the U.S. Navy. She became team lead within her first year at the company and has earned her Six Sigma certification.
The Alumni Speaker Series is a collaborative effort of Career Services and the Office of Alumni Relations, which brings SU alumni back to campus each semester to share their career stories.