Paul Roberts to deliver SU Showcase keynote on realities of a sustainable future
How do we build a sustainable future, especially when much of the present seems so unsustainable? Journalist and author Paul Roberts will tackle this issue during his SU Showcase keynote presentation, "The Real Cost of Change: The Economic and Political Realities of a Sustainable Future," on Wednesday, April 18, at 7 p.m. in the Schine Student Center Goldstein Auditorium. Admission is free and open to the public.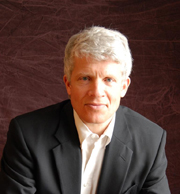 Roberts, whose book "The End of Oil" (Mariner Books, 2004) has been cited as one of the best books about our energy economy and its environmental implications, regularly writes and lectures on the relationship between economics, technology and the natural world. His lecture will close out the campuswide, day-long SU Showcase for Sustainability 2012 event. 
"As an objective, sustainability can be daunting," says Roberts. "By now, most of us realize that creating a society that truly is sustainable won't be easy or happen quickly—and that understanding can sometimes leave us paralyzed. So you need to strike a balance. Understand how large and complex challenge is, then find a small piece of the challenge that you can manage on your own, or with a small group or a community, and go for it. Even small increments can add up to big change. But it starts with understanding." 
In his presentation, Roberts will not only discuss the significant challenges in finding more sustainable ways to handle essentials such as food, water and energy, but also the many promising signs that this transformation is possible. He will review the political and economic realities in the areas of alternative energy, and will provide encouraging breakthroughs in green technologies and other green concepts, such as "smart cities" and "grids." 
"Paul is a true public intellectual," says Rachel May, coordinator of sustainability education at Syracuse University. "He is a gifted communicator who also has deep knowledge of his subject and an important message about what we need to do to turn our unsustainable system around. We are fortunate to have him as our keynote speaker for SU Showcase, and I hope the whole community will take the opportunity to hear him."
Roberts also authored the book "The End of Food" (Mariner Books, 2008), an in-depth analysis of our food economy. In 1999, he was a finalist for the National Magazine Award, and the New York Public Library Helen Bernstein Book Award for Excellence in Journalism in 2005.
On the forefront of energy issues and politics, Roberts frequently appears on national and international television and radio news shows, including CNN's "Lou Dobbs," The BBC, PBS "NewsHour," MSNBC, "CBS Evening News" and on NPR's "Morning Edition," "On Point," "Weekend Edition" and "Fresh Air." In addition, he has written a number of pieces for The Los Angeles Times, The Washington Post and The (UK) Guardian and has appeared in Slate, USA Today, the New Republic, Newsweek, the Christian Science Monitor, Rolling Stone and Outside Magazine.  
To learn more about Roberts, visit http://the-end-of-oil.com/id2.html. 
SU Showcase is a campuswide, Earth Week celebration of students' sustainability work and the future of a green economy across the energy, entertainment and plastics industries. The event—geared toward all SU and SUNY College of Environmental Science and Forestry students—is also open to the public and will be held all day on Wednesday, April 18, in SU's Schine Student Center. Check out the complete event schedule at http://sushowcase.syr.edu/Schedule.html, and follow SU Showcase on Facebook and Twitter #GreenSU for the latest updates.