NY Federal Reserve Bank president and CEO to speak at Maxwell
William C. Dudley will visit the Maxwell School on Thursday, April 12, to discuss "The Economic Outlook for the U.S. and Europe." The address will be held in Room 220 Eggers Hall, the Public Events Room, beginning at 11 a.m. and will be followed by a Q-and-A session.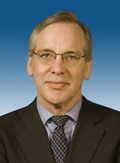 Dudley became the 10th president and chief executive officer of the Federal Reserve Bank of New York in 2009. In this capacity, he serves as the vice chairman and a permanent member of the Federal Open Market Committee, the group responsible for formulating the nation's monetary policy.
Previously, Dudley served as executive vice president of the markets group at the New York Fed, which oversees domestic open market and foreign exchange trading operations and the provisions of account services to foreign central banks.
Prior to joining the Bank in 2007, Dudley was a partner and managing director at Goldman, Sachs & Co. and was the firm's chief U.S. economist for a decade. He was an economist at the Federal Reserve Board from 1981-1983.
In 2012, Dudley was appointed chairman of the Committee on the Global Financial System of the Bank for International Settlements (BIS); he was chairman of the Committee on Payment and Settlement Systems of the BIS from 2009-2012. He is a member of the board of directors of the BIS and the board of trustees of the Economic Club of New York.
Dudley received a doctorate in economics from the University of California, Berkeley, in 1982 and a bachelor's degree from New College of Florida in 1974.