Meditation Habitats on display April 18-19
Students in this semester's "Meditation Habitats" course in the College of Visual and Performing Arts will present contemplative sculpture work to the Syracuse University community this week.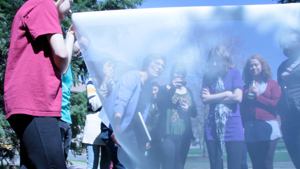 Sheltering structures that inspire pause and reflection will dot Syracuse University lawns in front of Smith Hall and the Hall of Languages on Wednesday, April 18, and Thursday, April 19. Additional meditation habitats will be on view at J&J Smith Gallery in Smith Hall from April 23-28.
"Throughout this interdisciplinary course, students have explored creative acts that began with mindfulness and embodied values of respect for one another and our environs. Through art and design, we hope to inspire a culture of well-being in every sense of the word," says Associate Professor Anne Beffel, the course instructor and artist in residence in Hendricks Chapel.
Students from VPA's School of Art and Design and the School of Architecture integrated questions of sustainability, collaborative community building and wellness into their contemplative designs. Faculty and professionals from Syracuse to Seattle contributed design and fabrication expertise. They offered students myriad perspectives on striking balances professionally, personally and environmentally. The class incorporated workshops on yoga, meditation sessions and home-cooked meal sharing as ways of grounding the students in mindfulness.
The Meditation Habitats invite people walking on campus quads and gallery-goers at Smith Hall to slow down. These spaces offer pause and momentary reflection in the midst of every day chaos. Structures range in form: a spiral path of twigs, planted in the lawn to create a place for walking meditation, simultaneously aerates the grass. A translucent white trapezoid is made of bamboo grown at a student's home and silk screen fabric that will be repurposed for use in a printmaking studio. One structure resembles a cloud, while another provides a suspended rope chair. Another team's work serves as both a passageway and a meditation shelter. Another utilizes hundreds of discarded T-shirts cut into strips and braided into a colorful tent-like structure. Visitors to this habitat find piles of loose fabric strips to weave, creating a collaborative, silent dialogue between artist and viewer.
Each structure incorporates the Sitting Still Contemplative Video Project, conceived by Beffel and created with hundreds of video-makers. Sitting Still Contemplative Videos invite viewers to discover different perspectives through the simple act of being still and recording videos of seemingly mundane scenes. The April 18-19 installation of the habitats and contemplative videos is a collaboration with SU Showcase, an annual celebration of the University's commitment to education with a mind to the environment.
The Meditation Habitat course was sponsored by the Division of Student Affairs, Hendricks Chapel, Syracuse University Wellness Initiative, College of Visual and Performing Arts and Zen Center of Syracuse. For more information, contact Beffel at aebeffel@syr.edu.