mcgarrybowen New York CEO Bill Borrelle to visit Newhouse April 17
Bill Borrelle, CEO of mcgarrybowen New York, will visit the S.I. Newhouse School of Public Communications on Tuesday, April 17, as a guest of the Eric Mower Advertising Forum. He will speak on "Time to 'Unlearn': How to Get Unshackled from Conventional Marketing Thinking" at 6:30 p.m. in the Joyce Hergenhan Auditorium in Newhouse 3. Follow on Twitter at #MowerForum.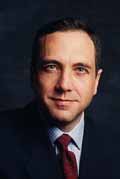 Since joining mcgarrybowen New York in 2006, Borrelle has helped evolve an agency known for "big, organizing ideas" into a powerhouse. In 2011, the company was named Agency of the Year by both AdAge and Adweek. Borrelle previously served as group managing director for mcgarrybowen. Since its founding in 2002, the company has grown faster than any agency in history, with such accounts as Verizon, Bud Lite, 7-up, Advil, J.P. Morgan/Chase, Crayola, Disney and Burger King.
Borrelle was previously a senior vice president with Wunderman, where he led the Citibank account; vice president of marketing with Visible World; and a senior vice president with Digitas, where he managed integrated marketing efforts for the spin-off of American Express Financial Advisors to Ameriprise. He began his career at Citibank, where he launched the Citibank Gold AAdvantage card.
Borrelle is a graduate of Villanova University and holds an MBA from the University of Pennsylvania's Wharton School.
His talk is free and open to the public. Parking is available in SU pay lots. For more information, contact Ed Russell at 315-443-4045 or edrussel@syr.edu.