Marilyn Higgins one of five newly appointed to Erie Canalway National Heritage Corridor Commission
Marilyn Higgins, vice president of community engagement & economic development  at Syracuse University, is one of five newly appointed to the Erie Canalway National Heritage Corridor Commission. Higgins, nominated by Congresswoman Ann Marie Buerkle (NY-25), will be sworn in Wednesday, April 25, at 10 a.m. at the Crystal Ristorante in Amsterdam, N.Y.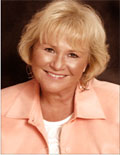 The commission includes heads of involved state agencies and community leaders recommended by the governor, senators and congressional representatives for their expertise in such fields as tourism, law, planning and historic preservation.
"I have long been fascinated with how this bold, highly criticized infrastructure project shaped upstate New York and changed the world," says Higgins. "I am honored to try to help keep the Erie Canal's legacy vital through the commission."
The commission meets quarterly to plan and direct activities to assist in the preservation and interpretation of the nationally significant historical, natural, scenic and recreational resources of the Corridor and to help foster community revitalization.
The other four newly appointed 2012 commission members are:
Jonathan T. Daniels, executive director of the Port of Oswego Authority, Oswego; nominated by Congressman Bill Owens (NY-23);
James R. Farr, assistant director of recreation, City of Rochester, Department of Recreation and Youth Services; nominated by Congresswoman Louise Slaughter (NY-28);
Brian U. Stratton, director of the New York State Canal Corporation; nominated by Governor Andrew Cuomo; and
Ann M. Thane, mayor of Amsterdam; member at large.
The National Heritage Corridor stretches 524 miles across the full expanse of upstate New York, following the present NYS Canal System and its historic alignments. Its federally appointed commission and staff collaborate with communities and organizations to preserve and interpret New York's nationally significant canal heritage, enhance heritage development and tourism, and ensure a vibrant future for the 2.7 million New Yorkers who live within the Erie Canalway.
As vice president of community engagement & economic development at SU, Higgins is responsible for the Connective Corridor and Near West Side Initiative, two multi-million dollar urban redevelopment projects that serve as a platform for Chancellor Nancy Cantor's vision of Scholarship in Action. Higgins is president of the Near West Side Initiative, Inc., board, a diverse nonprofit development corporation seeking to revitalize the ninth poorest census tract in the United States, and leads a collaborative effort with the City of Syracuse to create the Connective Corridor as a signature strip of innovative urban design linking University Hill with the arts and cultural venues of downtown Syracuse.
For more information about the Erie Canalway and the Erie Canalway National Heritage Corridor Commission, visit www.eriecanalway.org.