Low End Theory to give free performance at CFAC as part of Th3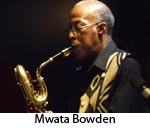 The Community Folk Art Center (CFAC) presents a concert of original music by Mwata Bowden's Low End Theory, featuring Paul Steinbeck, assistant professor of musicology in the Department of African American Studies in The College of Arts and Sciences, and percussionist Thurman Barker. The concert, "Creating Culture," will take place Thursday, April 19, from 6:30-8:30 p.m. at the Community Folk Art Center (805 E. Genesee St.). Admission is free and the concert is part of Third Thursday (Th3). For more information, call 315-442-2230 or email cfac@syr.edu.
Steinbeck is a bassist/improviser/composer whose original music reflects his experience playing everything from free jazz to hip-hop. His third recording as leader, "Sun Set" (Engine e022, 2007), is an impressive artistic statement that blends adventurous collective improvisation and a range of musical styles, from R&B and gospel to expressive, coloristic percussion pieces.
Steinbeck performs in the United States and internationally with several groups—his new experimental ensemble, THUMP; the Low End Theory with former Association for the Advancement of Creative Musicians President Mwata Bowden; and a French-American quintet with saxophonist Pierrick Menuau.
Barker began his professional career at the age of 16 playing for blues singer Mighty Joe Young. Classically trained at the American Conservatory of Music, his reputation as a drummer grew quickly. He has played backup for Billy Eckstein, Marvin Gaye, Bette Midler and Vicki Carr. He was the house drummer at the Schubert Theatre in Chicago for 10 years, where he played for national touring companies in "Hair," "The Wiz," "The Me Nobody Knows," "Promises, Promises," "1776," "Bubblin' Brown Sugar," "Raisin in the Sun," "Grease," "One Mo' Time" and "Ain't Misbehavin'."
Barker is a charter member of AACM and has performed and is known worldwide. He has recorded with Cecil Taylor, Muhal Richard Abrams, Amina Claudine Meyers, Anthony Braxton, Roscoe Mitchell, Sam Rivers, Billy Bang, Joseph Jarman and Henry Threadgill. He has taught and developed the jazz program at Bard College since 1993, and is an associate professor of jazz studies there.
A native of Memphis, Bowden attended Chicago's DuSable High School, where he studied music with the legendary Captain Walter Dyett, and later at Chicago's American Conservatory of Music, and before touring with the rhythm and blues group the Chi-Lites. In 1974, he became active in Chicago's AACM, playing with the AACM Big Band with Muhal Richard Abrams and others. He plays the family of clarinets, tenor and baritone saxophones, as well as the flute and the didjeridu. He has performed at jazz and blues festivals throughout Chicago and around the world.
Bowden has received the Outstanding Artist Service Award for dedication to children through music, recognition in Downbeat magazine's annual Critic's Poll from 1990 to 2003, and the 1994 Arts Midwest Jazz Masters Award. His Sound Spectrum strives to reflect the energy and musical heritage of Chicago as well as the ongoing legacy of great black music.