La Casita to screen 'Papers: Stories of Undocumented Youth'
From April 9-17, a group of 15 undocumented youth and their supporters are walking 150 miles from New York City to Albany to raise awareness of, and gain support for, the New York Dream Act, which would remove barriers to state-funded financial aid and scholarships for qualified students regardless of their immigration status. The New York State Youth Leadership Council organized the march.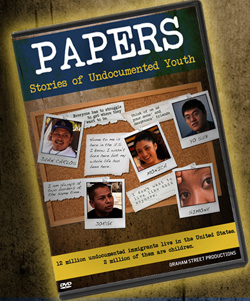 At 6 p.m. Friday, April 20, La Casita Cultural Center, 109 Otisco St., will present a screening of the 2010 documentary "Papers: Stories of Undocumented Youth," followed by a discussion featuring local activists. The event is free and open to the public. Further information can be obtained by emailing La Casita at lacasita@syr.edu, or by calling 315-443-1879.
Guest speakers who will lead the discussion include Jose Perez, a Syracuse attorney who is an expert on immigration law; Linda Carty, associate professor of African American Studies in Syracuse University's College of Arts and Sciences; and Efrén Lopéz, Guatemalan-born, award-winning photographer.
"Papers" turns the spotlight on the stories and challenges faced by thousands of undocumented youth who graduate each year from high schools across the United States. They are among an estimated 2 million undocumented children raised in the United States and educated in American schools who have little or no memory of the country in which they were born. When they turn 18, these youth are in legal limbo: they cannot legally work, drive, apply for any kind of ID or accept the college scholarships they have been awarded.
Produced by Anne Galisky and Rebecca Shine, founders of Graham Street Productions in Portland, Ore., "Papers" has been screened throughout the United States. The film follows the personal stories of five undocumented students and the national grassroots movement to pass the Dream Act in Congress. The film includes expert commentary from political, academic and civil rights leaders.