IVMF acknowledged for support of veterans, military families on first anniversary of Joining Forces
Haynie attends celebration at White House
On Wednesday, April 11, First Lady Michelle Obama and Jill Biden kicked off a White House celebration for military families and organizational leaders that have played key roles in supporting the nation's troops, veterans and military families on the occasion of the first anniversary of the Joining Forces initiative.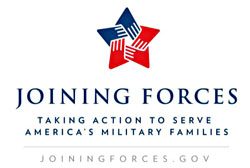 The Institute for Veterans and Military Families at Syracuse University has been recognized by the White House as playing an important role in the initiative, which has produced an overwhelming amount of support for active duty military, veterans and military families both with words and concrete actions committed to making a difference in their lives. IVMF executive director Mike Haynie, a U.S. Air Force veteran, took part in today's celebration.
On April 12, 2011, Obama and Biden launched Joining Forces to bring all Americans together to recognize, honor and serve the nation's veterans and military families. Joining Forces focuses its efforts on improving the employment, education and wellness of America's troops, veterans and military families, in addition to raising awareness about the service, sacrifice and needs of all who serve the country, both abroad and domestically.
Working with Joining Forces, the IVMF and other organizations have helped thousands of veterans and military spouses find jobs, supported the nation's wounded warriors and their caregivers and honored the nation's fallen and the inspirational strength of their families. In recognition of the initiative's first anniversary, the White House produced a fact sheet, which cites the work of the IVMF as part of key Joining Forces accomplishments and deliverables.
"Given the moral obligation we have to support and acknowledge the relationship between the role that our veterans and their families play in defending our freedoms, it is critical that government, industry and higher education continue to help facilitate a successful and meaningful transition during the post-service life course. Beyond this obligation to our veterans and their families, they bring values, skills and experiences to their own businesses, their employers and to educational institutions, which benefit our economy and our society," says Haynie. "The efforts made by Syracuse University through the creation of the IVMF and its mission to leverage higher education in service to America's veterans and their families through the pillars of employment, education and actionable research go a long way toward living up to that obligation. It is an honor to represent Syracuse University and its historical commitment to serving our nation's military, veterans and their families on the first anniversary of the Joining Forces initiative, and to be acknowledged for this important work by the White House."