iSchool adviser/SU Trustee creates new summer Ph.D. fellowships
Believing that "the research from the Ph.D. program is fundamental to what the School of Information Studies is and what it becomes," iSchool Board of Advisors member and Syracuse University Trustee Christine Larsen has established a summer fellowship to support a new cohort of students throughout their program.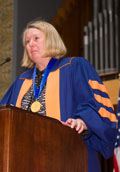 "The strength of our new Ph.D.s will continue to drive the reputation for the school," Larsen says of the new Elizabeth D. Liddy Fellowships, a program she named for a former classmate who now serves as the iSchool's dean. "Liz is a widely regarded leader in her field, so it's my hope that her reputation in the school and her legacy will be able to carry on to future generations through this award."
As a University fellow herself, Larsen graduated from iSchool in 1984. While her graduate work at Syracuse was something she never regretted, she remembers it as a time that was grueling, both academically and economically. She had decided to pack all 36 credits into one calendar year, she recalled. "I was in a hurry. It was a bad idea, but it could be done, so I did it," she says. "And though I was on fellowship, we were destitute. We ate a lot of wings then," Larsen remembers.
When she was school convocation speaker last fall, Larsen met a cohort of four information science and technology Ph.D. students who were just beginning their path. She learned that many Ph.D. students are funded only for the academic terms, and that many must take routine jobs to make ends meet over summers. "That is when they should be reflecting and doing academic thinking without the added burden of teaching that they have in the spring and fall," Larsen says. Charmed by the cohort's enthusiasm and struck by the magnitude of their journey, Larsen decided right then that she "wanted to be their fairy godmother. I wanted to see if there was some way I could make their time easier."
Consequently, the Elizabeth D. Liddy Fellowships, which Larsen says recognize Liddy's "superior academic achievements and reputation in the technology field," will provide $7,000 in funding to each of the four Ph.D. students in that cohort, for the next three summers of their program.
"Christine has found an especially thoughtful way to provide a gift that not only immediately benefits the students, but is likely to generate added contributions in coming years. There is no telling just how a summer term spent in academic pursuits may enhance and promote thesis research, and later influence others through the ideas and advances of these students," Liddy says. "The naming of these fellowships is a gracious gesture, and I am very excited to see how having this special summer funding enhances and promotes further opportunities for this group and ultimately benefits the iSchool."
Larsen's MLIS program permitted her "a very broad exposure to information management," in addition to the highly technical courses she pursued. Upon graduation, she was hired by a Syracuse alumnus and joined Accenture, staying at the company for 10 years.
Now, Larsen is an executive vice president and head of process improvement for JPMorgan Chase. The operation is one of the largest U.S. providers of banking and lending, employing more than 245,000 people. She has also led JPMorgan Chase's collaboration with SU, developing the first-ever cross-disciplinary curriculum to train students for large-scale computing in global technology.
"Whoever provided my fellowship changed my life and my family's life," she recalls. "As a trustee, I now look forward to [this group] receiving their hoods and being part of that ceremony."